"Random Hearts"
Starring Kristin Scott Thomas and Harrison Ford
133 minutes
Rated R
Columbia Tristar Pictures
[MARCH 17, 2000] Kristin Scott Thomas and Harrison Ford star in this lengthy psycho-drama, which takes place in a variety of locations including Washington DC, New Hampshire and Miami, Florida. The direction is seamless, the photography exquisite, but the acting is somewhat disappointing.
Dutch Van Der Brock, played by Harrison Ford, and Kay Chandler, Kristen Scott Thomas lead very different lives. Dutch is a DC cop who investigates other cops along with his partner Alcee (played by Charles S. Dutton – "Aliens III"); Kay is a congresswoman attempting seeking re-election. Their lives come into contact with each other over the tragic and suspicious deaths of their spouses, who die together in a plane crash. As the story unfolds, Dutch and Kay learn that their deceased mates were having an affair. Although the plot goes there, the story is not about the affair itself but about how Dutch and Kay find peace and resolve the betrayal and cope with this great loss.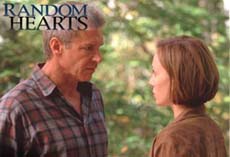 Be forewarned this is a long movie, and is about a difficult subject. The flick toys with the idea that affairs are normal and natural and even desirable in the course of marriage and relationships. One female character says of her own marriage, "Without an occasional romantic fling I would really feel old."
"Random Hearts" doesn't end on this note and even goes so far as to say that relationships need to be built appropriately and preserved.
Kristin Scott Thomas and Harrison Ford were wonderful to see on the screen again (I usually can't wait to rent a new Harrison Ford movie), but they were less than believable in their portrayal of these characters. Dutch Van Der Brock was a man of few words—a grunt here and there with an outwardly rough demeanor. Kay Chandler was a perky, chatty, over-the-top character who wanted to forget about their problems. Conversely, he wanted to know every detail.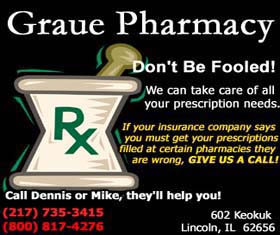 The director was successful in throwing these two characters together and contrasting their personalities, but Ford seemed forced and plastic, and Thomas never really warmed up and closed the gap between herself and Ford. Her last scene was the only believable scene for her character, but was ruined when Ford donned his fake sarcastic Indiana Jones grin and invited her to permanently share his life (don't worry – I'm not giving away anything you wouldn't see in the previews).
This movie gets its R rating from its mature exploration of a sensitive subject. There are the opening and closing scenes depicting sex between Dutch and Kay, but not the act and no nudity. Language is not largely a problem in this movie, but there is bloodshed and violence.
My recommendation is that there is no reason for teenagers under the age of 18 to even be in the room while this movie is showing. In general, I liked the story, survived the acting and hope that the next time the part will be written for Harrison Ford's talents. I give this movie 2½ stars out of 5.
[midge]
Got a comment about this movie or about Midge's review? Send e-mail to midge@lincolndailynews.com.
"Stigmata"
Starring Gabriel Byrne, Patricia Arquette, Jonathan Pryce
102 minutes
Rated R
A Metro Goldwyn Mayer Production1999
[MARCH 17, 2000] A fascinating mix of old icons and pop culture, "Stigmata" captivated my sense of adventure, mysticism and spirituality. This movie is rich in visual and auditory stimuli (you'll want to turn the stereo on to hear this one), and genuinely captures the clash of new values versus old traditions. This movie is about a search for truth.
Father Andrew Kernan (Gabriel Byrne), a scientist, is sent by the Vatican on missions to faraway places to debunk the miraculous. He is usually particularly successful. And then it happens: a miracle he cannot explain away. A Jesuit priest dies in a tiny Brazilian village, and miraculous signs break out in the tiny church where his body lay in state. A statue bleeds from the eyes, doves appear out of thin air, and water droplets drip upward (this scene kinda gave me the willies). In the midst of what seemed to be supernatural activity, a boy from the streets quietly steals the rosary which was placed in the coffin and later sells it on the streets to a tourist for a small sum. And so the story begins.
The tourist sends the rosary to her daughter, Frankie Paige (Patricia Arquette), a thoroughly modern young woman in New York. And the miraculous travels with it.
"Stigmata" is a disturbing story of faith, the miraculous and the desire of the powerful to avoid truth and change. This movie confronts unbelief and unfaith and tears at the unfounded tradition and recklessness of the entrenched religious powers of Christianity. The conclusion of this movie is startling. The message of this movie is powerful.
Byrne has played a variety of roles in the films I have seen him in, and is characterized in my memory as being a dark character. Conversely, in "Stigmata," he convincingly plays the bearer of light and goodness and truth. Arquette typifies the modern agnostic and is cast perfectly as the afflicted in this film. Pryce plays the dark character, Cardinal Daniel Houseman, a role he was born for.
This film depicts graphic scenes of bloody mutilation and violence, as well as containing a smattering of language and sexual innuendo, easily earning its R rating. Although it approaches the boundaries of the indecent, it does it to make a point and make clear its message. I recommend that you ship the children off to grandma's house before popping this one into the VCR (not appropriate for those under 16) and be ready to have a family discussion with teenagers after it's over.
I was thankfully surprised at the message of this film, and fascinated by its story, filming and direction. I enjoyed Byrne's participation, and found myself being sympathetic to Arquette in this film. I recommend this film with some reservations, and give it 3½ stars (out of 5).
[midge]
Questions about movie choices, or want to comment on my movie reviews? E-mail me at midge@lincolndailynews.com. It's totally free!