Q: Coach, letís first talk about the prospects for this yearís team.
A: I have four seniors: Peggy Bobb, Angie Bossingham, Emily Mahler and Michelle Young. Out of those four, two of them are returning starters, Peggy Bobb at first base and Angie Bossingham at third base. Emily Mahler is our second baseman, and she struggled at the plate a little bit last year. Michelle Young broke her wrist last year, so she was out part of the season. I like the fact that she is back, because I can use her at first base also. Peggy has a great arm, so I would like to be able to use her elsewhere. Angie right now is playing short stop but I may have to rotate her at third some. None of my junior class played varsity except for our number one pitcher, Hilary Schweitzer.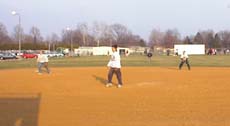 Sophomore-wise, the only one who saw considerable action was Emily Wilkinson, but she suffered through some injuries. First she broke her nose, and when she returned to action she broke her thumb. Sheís my catcher, so itís really good to have her back, too. Itís always good to return your pitcher-catcher combination. My number two pitcher is Jo Beth Borowiak, who is only a sophomore. She will probably be throwing a lot of sophomore games. Sheís the type of girl that I can throw in the infield or outfield for varsity contests. Iím in limbo right now as to where people are going to play. Iím just trying to get the feel right now of what some of these girls can do.
Q: Can you give us an idea then of who some of those positions might go to?
A: The outfield could consist of juniors Ashley Boyer, Shannon Chrismore, and Bethany Gleason. Sophomores will fill some of the other roster spots. Emily Wilkinson will be my catcher. Alicia Barr will rotate with "Boss" at third and short. Jo Beth will pitch some and be a utility player. Darcy White will probably be in the outfield along with Lori Reinwald. First year player Amber Wright may find herself in the outfield or could help in the infield. Kim Koester will rotate some with Mahler at second base.
Q: It sounds like you have a pretty good plan on how this team is shaping up.
A: Yes, I do have an idea of where some of them can play. Right now itís finding out whoís going to be consistent, at the plate or in the field.
Q: That leads me to my next question. What are the strengths and weaknesses of this team?
A: Right now, I think our weakness is hitting. Today we hit off live pitching and we have work to do in that area. Itís a big difference from hitting off the machine. One of our strengths, Iíd have to say, is our aggressiveness. Our underclassmen have no fear. They are not afraid of making a mistake, so theyíre the ones out there diving for balls or going after balls. Theyíre just not afraid of making mistakes. I like our aggressiveness and the positive attitude that the girls have right now.
Q: Returning your pitcher-catcher battery has got to be a plus going into the season.
A: Definitely. Hilary is the type of girl that has worked hard in the off-season. Sheís worked on different pitches and techniques. Jo Beth is also a good worker in the off-season and plays summer ball, so I could see her coming back next year and really be strong.
Q: Like most Railer teams, you play a tough schedule. What will the league and non-conference schedules look like this year?
A: The conference will be strong. Sacred Heart-Griffin and Chatham-Glenwood will both be good--especially Sacred Heart. They return three-year starting pitcher Trish Sanders. Thank God, sheís a senior. Sheís an outstanding pitcher. Although, if we can scrape together a couple of hits, they are beatable. Last year we only got two hits against them but won the ball game.
Chatham-Glenwood lost a lot of seniors, but they are coming off a state tournament trip. They also have a great pitcher who is a junior. Springfield lost a senior pitcher, so they may struggle a little this year. I could see us being right there--in second or third, if we could knock off a Griffin or a Glenwood. Southeast has a returning freshman pitcher, and they should also be pretty good. We will be competitive with Lanphier and Taylorville. Taylorville returns their pitcher, and theyíre solid. Jacksonville is not a flashy team, but they are aggressive. I think we could be in the top three this year.
Q: Does your schedule lend itself to filling the holes that remain and getting people in the right spots for a conference and a post-season run?
A: Definitely. We have a tendency not to be as focused against non-conference opponents. Sometimes I think that our girls donít have that same mentality and aggressiveness that they do against our league teams. Hopefully that will change this year, and that will help us in both portions of our schedule. An exception is Decatur Eisenhower. We battle them during the season, but it may be because our girls know that weíll see them in the regionals. Our focus needs to be better. We need to go out strong and get better as the season goes along.
Q: Who do you feel on this team will have to step up in order for you to have a good year?
A: You gotta keep Peggy Bobb hitting. Last year she slugged nine home runs. She must remain consistent at the plate. Really, Bossingham is a key, too. Iíd really like to see some of these underclassmen that will be playing the outfield step up. Theyíre starting to see that playing the outfield is not an easy position. That will be another big key for us. Teams will be hitting us because our pitchers throw strikes, and with that weíre going to have to play solid defense.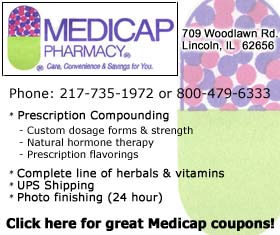 Q: Coach, youíre in your fifth year as head coach. How does this team compare with your previous ones, and do you feel like youíve got the program in place to get it done now?
A: Itís tough here because we only have one junior high that has a softball program. Lincoln is a basketball town. Iím not knocking that--Iím a basketball coach--but itís tough to get a solid program going with so many limitations. For summer programs, a lot of our girls go elsewhere, and you canít always blame them for that. They really donít enjoy playing against each other locally, and they really canít get that competition from elsewhere. When they come in as freshmen, it seems like we have to start all over teaching them fundamentals, and I wish that the other junior highs could add softball. Right now, without them, it is hurting our program.
The last few years that Iíve been here, Iíve got an idea of what I want. The pressure in softball is not like it is in basketball. Itís the last sport of the season and softballís never been the prime sport. There are not a lot of expectations to win regionals. When we advanced to the regional championship two years ago, it had been 10 years since we had been that far. And now, weíve done that the last couple of years. Now if we can get over that hump, we might be able to go a little farther.
Q: You seem to get a lot of respect at the seeding meeting. How is that?
A: Itís because of who we play and that we always play a tough schedule. The coach at Decatur Eisenhower rates us high because he knows weíre battlers. Last year we were mixed with five or six other teams with similar records. After I spoke, he got up and said to count Lincoln out and donít seed them on that lower level, because they will really surprise you. And we did. We beat the number two seed and ended up playing for the championship. It went extra innings, and we lost a heartbreaker 4-3. We have a little bit of respect from some of those schools.
Q: What can we expect record-wise from this yearís squad?
A: Weíve got to be .500 (last year we finished two games under). That may sound funny but, after losing so many senior starters, that would be a good accomplishment. Weíve got to be consistent and at least get to that level. Weíd like to get to the regional championship and have another crack at Eisenhower, who is ranked number 15 in the state in the pre-season poll. Weíd like to be number one in the league, and I like it when the girls set that high of a goal. They also have goals, like to eliminate errors. Last year we had far too many, and so the girls themselves said, weíre gonna eliminate those.
Q: Tell us about your coaching staff.
A: When I came here, Ken Schweitzer was the head coach and I was his assistant. When his son Adam got really involved in sports, he said, Iíll make you a deal. You become the head coach and Iíll be your assistant, so that I can go see some of my sonís games. So thatís how we kind of flip-flopped. Timmy Schaffer has been with me the last couple of years as our JV coach. Ken is also our freshmen coach. Our numbers are a little low right now, so the freshmen combine a lot with the sophomores. That is good, because I need an extra coach in my practices because of hitting and stuff. Schweitzer usually stays with me during practices, and when Tim needs some extra help heís down helping her as well. We have a good staff.
Q: How would you describe your coaching style?
A: Well, Iíve learned that winning isnít everything. I mean I really want to win. If we go out and lose 4-3, it may have been a great game. I want the girls to learn, how did we lose. Did we make some errors, and were there mental mistakes? If we come out making 16 errors in a game, thatís when I get frustrated. Whatís important to me is how we play. I think Iím a pretty easygoing person, but I can be a disciplinarian. I know what I want and I think they know what I want. They know what to expect outta me, and I know what to expect outta them. I donít knowÖI think Iíve changed in the last couple of years with some of the things I feel. I am a competitor, and I donít like to lose. I expect the girls to always work hard. I donít like laziness. Itís hard when I see some kids today say, if you win, you win; if you lose, you lose. I wasnít like that. I said, give me the ball. My junior year at Hartsburg was the first year our volleyball team went to state.
Q: Well coach, good luck to you and the team this year.
A: Thank you. We plan on having a lot of fun. Itís the last sport of the year and the girls are relaxed. The atmosphere is not nearly as tense as the hoops pressures. It may be why weíve been so successful with our softball program. We work hard and weíre not tentative.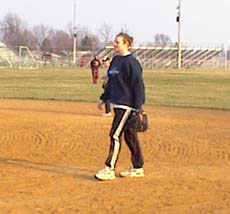 Q: What would you tell the younger kids of our community?
A: Get involved with everything. Donít pin yourself down with just one thing. Get involved with as much as you can.