Cash from trash
[MARCH 11, 2000] For the past 50 years, Lincoln Iron and Metal has been taking "trash" and turning it into cash at 1710 N. Kickapoo in Lincoln. Although to the untrained eye it may look like something to throw away, many unwanted scraps are part of a profitable business that helps to "save the earth," according to Kurt Hullinger, supervisor for the scrap yard.
Hullinger, who has worked for Lincoln Iron and Metal for the past five years, says what he likes most about his work is the variety of tasks. "There are so many different things to do in a day," he explains. "You do a little bit of everything."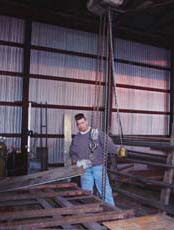 [Kurt Hullinger hoists sheet metal from the rack before cutting it to the customer's satisfaction.]
Some of his responsibilities include selling new steel, and cutting, measuring and cleaning metals that come in. Cleaning involves extracting the different types of metals received, such as copper, brass, steel, iron and aluminum. These metals can be found in many different types of products—from pop cans and copper tubing to brass fittings and aluminum siding.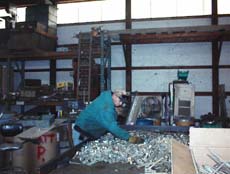 [Lincoln Iron & Metal employee Matt Presswood sorts and cleans aluminum.]
And it is very important to know the difference, says Hullinger, "As a scrap person, you have to know your metals." The look, feel and weight of the metals are all factors in determining its type and monetary value. "We pride ourselves in being fair," he explains. "We don't want to take advantage of anybody."
The different types of metal is not the only thing that is diverse in the scrap metal business. The clientele is also from many different walks of life, including industrial accounts, farmers, construction workers and people who simply want to turn in their pop cans for recycling. "We try to cater to everybody," says Hullinger.
Learning about the scrap metal business is something that is done on-the-job, and Hullinger enjoys every day. "I learned as I went along," he says.
Although Hullinger spends most of his days working outside, there are some office responsibilities that he handles, such as buying new steel, keeping track of products as they come in, and determining when to schedule a load to be sent. And though it may seem like the constant change in daily tasks would be hectic for some, Hullinger contends that's exactly what he likes about his work. "It's interesting because you don't do the same thing every day," he explains. "I like to come to work every day."
Hullinger resides in Lincoln with his wife Lane, and their son, Nolan.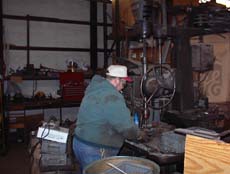 [Chris Cyrulik uses a drill press.]