---
LCCS breaks record
with 1,000th student
[NOV. 2, 2002] LINCOLN ó Lincoln Christian College and Seminary has achieved a record enrollment of 1,011 students for the fall semester. This is the first time in the schoolís history that enrollment has exceeded 1,000 students. Sandra Kellerstrass, a non-traditional student in the LincUp program, was the 1,000th student to register for classes at LCCS.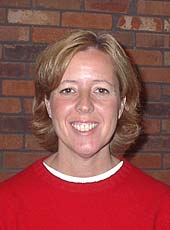 A home-schooling mother of six, Mrs. Kellerstrass is pursuing a bachelorís degree in Christian leadership and management. "Iíve always wanted to finish my degree," she explains. "As my children started going off to college, I decided to do that for myself."
Married for almost 30 years, she and her husband, Kim, are actively involved in ministry at their church. Together, they serve as youth leaders for junior and senior high students, assisting them in Bible quiz memorization and competition.
And as she pursues her degree through the LincUp program, Mrs. Kellerstrass says her education is helpful not only in her ministry, but also in her everyday life. "In the LincUp program, weíre getting a great education. I am very impressed with how the teachers incorporate Christ into any subject." She adds, "They have done a really good job with putting Christ at the center of [our education]."
As a LincUp participant, she takes classes one evening per week. The accelerated courses enable students to earn a degree without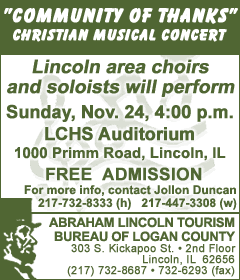 compromising their time for family, career and ministry opportunities.
LincUpís format is designed for students over the age of 25 and offers accredited bachelorís degrees in Christian leadership and management and in general ministry.
And for Mrs. Kellerstrass, the LincUp program has been an ideal situation. "My experience at LCC has been very positive," she says. "It is exciting to see it growing."
[LCCS news release]
---
Crowd turns out
supporting Lincoln youth
[OCT. 7, 2002] The setting sun and tranquil fountain splash at Scully Park belied the purpose of the growing crowd that stood silently waiting for 6:30 Saturday. They had come. Parents, teens, kids of various ages, college students, grandparents and great-grandparents, all had gathered in response to mounting evidence of drug and alcohol abuse by our youth.
A parent with teens, Stacey Martin called the community to this time of prayer. Her own teens have known some of the kids that have made headlines in the last 12 months. She felt convicted to take action. She wrote letters to the editor and invited everyone to join her in prayer for our youth.
Martinís letter ended by saying, "If only one person shows up, then this letter served its purpose. The Bible says where two or three are gathered togetherÖ" Well, more than three came. The response was tremendous. An estimated 300 to 400 people of all ages stood with her Saturday night.
She began by saying, "I want to set some ground rules:
"1. We are not here to point fingers at anyone. Not the police, not the judges or anyone else.
"2. Next, if you are standing next to someone and they are crying, you must put your arms around them."
Martin opened speaking soundly, discrediting any motivation for self and giving all purpose for being there to Jesus Christ. She then directed thoughts to the issue at hand, saying we have lost nine young people to drugs and alcohol in the last year.
She said she received a call from Ernie Hoffert Friday evening. For those who might not remember, 16-year-old Kyle Hoffert lost his life in an auto accident while driving under the influence last July. Ernie Hoffert was grandfather to Kyle. He told Martin he approved of what she was doing.
"We are here for our children and their friends," she said. We need to recognize that they need our help.
"I do not want us to leave here without results," she said, indicating that Jesus will provide this.
She directed the crowd in prayer, asking God to release and protect our kids from the strong hold of drugs and alcohol.
Then Martin asked, "How many of you are in high school?" About 40 hands went up in the center of the crowd. They came forth, and four or more adults gathered around each laying hands on them. Everyone prayed. Tears flowed.
Then individuals teens came forward, and one by one, were prayed over. And so it went till all that desired to had come forth ó about a dozen teens in all.
Sean Booth came forward and gave his testimony as a recovered addict. This was his first public testimony. He had been a professional motorcycle racer until he had an accident while driving under the influence during competition.
He said that he was saved from addiction by a recovery program called Reformers Unanimous. It is an international program. They have a local chapter that meets at Park Meadows Baptist Church. The program is said to have a 95 percent success rate for those that stay in it. Their website address is www.reformu.com. You can call (217) 732-6900 for more information.
The crowd was led in the simple song "Jesus Loves Me." Martin encouraged teens to seek Jesus Christ and find a church. She charged parents with devoting themselves to Jesus, knowing where their children are at all times and spending time with them. The assembly closed with group prayer.
While most of the people at the gathering were Christians, not everyone had come on that account. Joe Hinkle said, "I came to see what people are doing to keep our kids out of trouble. This is a positive thing."
Several college students from New Wine Assembly said they heard about it at church and they just wanted to pray for our youth.
Amongst those in attendance were Lincoln Police Chief Rich Montcalm and Lincoln Mayor Beth Davis. Following the event, Montcalm said, "We need the publicís help. If anyone has any information such as where drugs are being sold or who is selling them, we want to know." He said you can call him anytime at (217) 732-2151.
Davis was pleased to see the community gathering together, but regretted that it was "for a tragic reason." She said, "Foremost, we need to protect our kids from the evils of drugs and alcohol. I think we saved several tonight"
Afterward Martin said, "God can rock somebodyís world in a way that theyíve never been rocked if they give him just a chance!"
[article and photos by Jan Youngquist]
---