Addresses of city and county officials
(Title, first name, last name, city or job title, address, city, state, postal code; phone)
Lincoln City Council members
Hon. Elizabeth Davis, Mayor, P.O. Box 353, Lincoln, IL 62656; 735-3912
Mr. David Armbrust, Alderman 3rd Ward, 700 Broadway St., Lincoln, IL 62656; 732-4261
Mr. Steve Fuhrer, Alderman 2nd Ward, 1203 Eighth St., Lincoln, IL 62656; 732-6679
Mr. Benny Huskins, Alderman 1st Ward, 412 N. Madison St., Lincoln, IL 62656; 732-3894
Mr. William Melton, Alderman 4th Ward, 1112 E. Burlington St., Lincoln, IL 62656; 735-2658
Mr. George Mitchell, Alderman 3rd Ward, 427 Wyatt Ave., Lincoln, IL 62656; 735-2151
Mr. Michael Montcalm, Alderman 5th Ward, 700 Broadway St., Lincoln, IL 62656; 732-6606
Mr. Verl Prather, Alderman 2nd Ward, 700 Broadway St., Lincoln, IL 62656; 732-4778
Rev. Glenn Shelton, Alderman 4th Ward, 920 Pekin St., Lincoln, IL 62656; 732-8749
Mr. Joseph Stone, Alderman 5th Ward, 270 Southgate, Lincoln, IL 62656; 732-1600
Mr. Pat Madigan, Alderman 1st Ward, 110 Park Place, Lincoln, IL 62656; 735-3724
Logan County Board members
Mr. Richard Logan, Chairman, Logan County Board, 1211 Fifth St., Lincoln, IL 62656; 732-8114
Mr. Lloyd Hellman, Vice Chairman, Logan County Board, 104 Prairie Lane, Emden, IL 62635; 376-3827
Mr. Roger Bock, Logan County Board, 450 450th Ave., Williamsville, IL 62693; 566-3867
Mr. Thomas Cash, Logan County Board, 230 S. Main St., Latham, IL 62543; 674-3423
Mr. Doug Dutz, Logan County Board, 119 Portland Place, Lincoln, IL 62656; 735-1478
Mr. Paul Gleason, Logan County Board, 1621 Rutledge, Lincoln, IL 62656; 735-9111
Mr. Jim Griffin, Logan County Board, P.O. Box 222, Lincoln, IL 62656; 732-7191
Mr. David Hepler, Logan County Board, 119 Lincoln Ave., Lincoln, IL 62656; 732-8586
Ms. Gloria Luster, Logan County Board, 106 N. Marion St., Mount Pulaski, IL 62548; 792-5275
Mr. Clifford Sullivan, Logan County Board, 519 Eighth St., Lincoln, IL 62656; 732-2539
Mr. Dale Voyles, Logan County Board, 543 11th St., Lincoln, IL 62656; 732-7901
Mr. Terry ("T.W.") Werth, Logan County Board, 123 Lincoln Ave., Lincoln, IL 62656; 732-9314
Mr. Rod White, Logan County Board, 477 1700th St., New Holland, IL 62671; 732-4793
---
Girl Scout announcements
Girl Scout leader meetings: the first Thursday of each month, at the usual time and place.
---
Websites with lots of ideas that Girl Scout leaders, families or kids can use:
See the website for Girl Scouts, Land of Lincoln Council, at http://www.girlscoutsllc.org/.
You can send questions and suggestions to the council by clicking here: gsllc@girlscoutsllc.org.
Also, see the national Girl Scouts site at http://www.girlscouts.org/.
---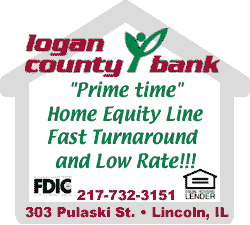 Logan County Genealogical and Historical Society annual Thanksgiving potluck
The Logan County Genealogical and Historical Society will have its annual Thanksgiving potluck on Nov. 18 at 6 p.m. Those attending should bring a dish to pass and table service to the society's research center, 114 N. Chicago in Lincoln.
After the meal, Eleanor Gunderman will share music from the World War II era and other historical times.
---
Logan County LEPC committee appointments
Logan County Local Emergency Planning Committee, the LEPC, held its spring quarterly meeting at the Logan County Safety Complex recently. Yearly elections for all offices, voting delegates, committees and chairs were held. The following members will serve as officers for the year 2002.
LEPC committee appointments
* Indicates chair
Hazard analysis — Dan Fulscher*, Kathy Waldo, Lisa Funk, Mike Patridge, Bobbie Abbott, Steve Siltman
Response and preparedness — Lisa Funk*, Rick Nesbit, Sheriff Tony Soloman, Police Chief Richard Montcalm, IDOT representative Mike Esker
Community awareness — Dan Fulscher*, Bobbi Abbott*, Linda Nelson, Joan Crabb, Don Begolka, Ken Davison
Health services — Kathy Waldo*, Lloyd Evans, Gary Bellafiore, Barb Kline, Roger Leesman, Marsha Stoll, Debbie Cook, Steve Siltman
Training — Mike Patridge*, Delmar Stewart, Sheila Nelson, Lincoln City Fire Chief Washam, Tom Martin
Community resources — Steve Siltman*, Lincoln Mayor Beth Davis, Atlanta Mayor Bill Martin, Dayle Eldredge, Curtis Sutterfield of the Salvation Army, Devin Vannoy, Ed Houchins
Representatives of constituencies
The law requires that one representative from each of the following categories be included in the LEPC membership. The delegate and predesignated alternate are listed for each constituency.
Local representative of elected official — Dayle Eldredge; Bill Martin
Law enforcement — Ed Baunach, Tim Butterfield
Civil defense and emergency management — Dan Fulscher; Terry Storer
Firefighting — Robert Washam; Roger Leesman
First aid and EMT — Steve Siltman; Tom Martin
Health — Kathy Waldo; Lloyd Evans
Local environmental — Mike Patridge; Warren Wendlandt
Hospital — Barb Kline; Gary Auten
Transportation — Don Begolka; Brian Hinds
Broadcast, print, electronic media — Joan Crabb; Jan Youngquist
Community groups — Mary Elston; Tammy Buse
Owners and operators of regulated facilities — Lisa Funk; Sheila Nelson
---
The Oasis, Logan County's senior citizen center, 501 Pulaski St. in Lincoln, is open weekdays (except holidays) from 9 a.m. to 4 p.m. The center is open also on Friday and Sunday nights for table games. Dominic Dalpoas is the executive director. Activities are open to all Logan County senior citizens, regardless of membership.
Holiday closing reminder
The Oasis will be closed Monday, Nov. 11, for Veterans Day. Regularly scheduled activities will resume on Tuesday.
Computer class
There are a few seats available for the Nov. 12-15 word processing class, with sessions from 9:30 to 10:45 a.m. The cost for the class is only $15. Call 732-6132 for a reservation.
Seats available for van trips
Enjoy lunch at Henry's in Rochester and shopping at the White Mansion House nearby. Transportation is $7, and lunch is on your own. Call 732-6132 for a reservation by Nov. 6.
The reservation deadline for the Barn II show in Goodfield, "No Sex, Please, We're British," has been extended to Nov. 8. Transportation, lunch and the show are included for $33. Call 732-6132 for a reservation.
Weekly game winners
Mable Hoagland won pinochle honors on Oct. 22, and Henry Warnisher took top billing on Oct. 24. Then the weekend game winners were Joan Morgan for pinochle, Ann Greger and Betty Berger for 5-in-1, and Harley Heath for pool. Ann Greger and Betty Berger won at Sunday night rummy.
Newsletter
Friends of The Oasis members receive bimonthly newsletters by mail. For more information, call 732-6132 or 732-5844.
---
Zonta Club of Lincoln will meet on at 6 p.m. Tuesday, Nov. 12, in Conference Room A on the lower level of Abraham Lincoln Memorial Hospital. A complimentary buffet meal and tour will be provided by the hospital. The usual meal fee will be collected from each attending member and will be used towards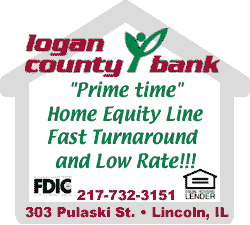 the purchase of medical equipment for the obstetrics ward.
Members are reminded to bring donations of toothpaste and shampoo for the Lincoln/Logan Food Pantry, one of this year's service projects.
Cancellations must be called in to Kay Bauer, treasurer, at (217) 735-5494 before 5 p.m., Monday, Nov. 11.
Zonta International is a worldwide service organization of executives in business and the professions working together to advance the status of women. The Zonta Club of Lincoln has been in service to the local community since 1957. For more information on Zonta, visit www.zonta.org.