Saturday, Nov. 2
SPONSOR: Xi Mu Gamma Chapter Beta Sigma Phi
WHO: Public
WHAT: Holiday craft fair
WHERE: Lincoln Park District, 1400 Primm Road
WHEN: 7 am - 2 pm
SPONSOR: St. Mary's Church of Atlanta
WHO: Public
WHAT: Bazaar and turkey dinner
Sunday, Nov. 3
SPONSOR: Zonta Club of Lincoln
WHO: Public
WHAT: Turkey dinner
WHERE: Lincoln Community High School, 1000 Primm Road
WHEN: 11 am - 1:30 pm
Tuesday, Nov. 5
WHO: Registered voters
WHAT: General election
WHERE: Logan County polling places
SPONSOR: Lincoln Writers' Club
WHO: People interested in writing
WHAT: Monthly meeting
WHERE: Pegram Room of Lincoln Public Library
WHEN: 6:30 pm
Wednesday, Nov. 6
SPONSOR: San Jose United Methodist Women
WHO: Public
WHAT: Bazaar and turkey supper
WHERE: San Jose United Methodist Church
WHEN: Bazaar booths open at 3:30 pm; serving starts at 4:30 pm
Monday, Nov. 11
WHO: Public
WHAT: Veterans Day celebration
WHERE: Logan County Courthouse lawn
Thursday, Nov. 14
SPONSOR: University of Illinois Extension, Logan County Unit
WHO: Public; preregistration and payment required; call (217) 732-8289; Nov. 8 deadline to preregister
WHAT: Holiday Happenings workshop
WHERE: Logan County Extension office, Postville Road
WHEN: 1-3:30 pm
Friday, Nov. 15
SPONSOR: Lincoln Lady Railers basketball team
WHO: Public
WHAT: Chicken dinner fund-raiser; tickets must be purchased by Nov. 8; call 732-2369 or 447-3262
WHERE: Lincoln Community High School; drive through the parking lot to pick up your dinner
WHEN: 4-6 pm
Saturday, Nov. 16
SPONSOR: Atlanta A-Team
WHO: Public
WHAT: Annual soup supper
WHERE: Atlanta Christian Church
WHEN: 5-7 pm
Saturday, Nov. 16
SPONSOR: Atlanta A-Team
WHO: Public
WHAT: Annual soup supper
WHERE: Atlanta Christian Church
WHEN: 5-7 pm
Thursday, Nov. 21
SPONSOR: Lincoln Public Library District
WHO: Public
WHAT: Family Reading Night
WHERE: 725 Pekin St.
Friday and Saturday, Nov. 22-23
SPONSOR: Clark's Greenhouse and Herbal Country
WHO: Public
WHAT: Christmas open house and tour
WHERE: 1 mile east of San Jose on Route 136, then 1 1/4 mile south on the New Holland blacktop (maps)
Saturday and Sunday, Nov. 23-24
WHO: Public
WHAT: Christmas on Vinegar Hill
WHERE: Various locations throughout Mount Pulaski
WHEN: 8 am - 5 pm Saturday; noon - 4 pm Sunday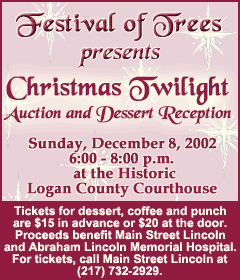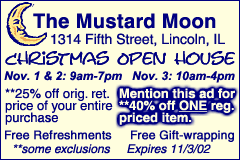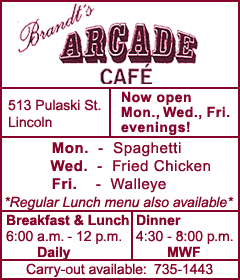 Sunday, Nov. 24
WHO: Public
WHAT: "Community of Thanks" Christian musical concert; Lincoln-area choirs and soloists will perform; free admission
WHERE: LCHS auditorium, 1000 Primm Road
WHEN: 4 pm
Thursday, Nov. 28
SPONSOR: ALMH
WHO: Grieving adults
WHAT: "Always in Our Hearts" bereavement support group
WHERE: Room 114, Jefferson Street Christian Church, Lincoln
WHEN: 11 am to 1 pm
Nov. 29 through Dec. 8
WHO: Public
WHAT: 'Tis the Season holiday festivities, including the Festival of Trees
WHERE: Downtown Lincoln
Saturday, Nov. 30
WHO: Public
WHAT: Pride of the Prairie Folk Art & Craft Show
WHERE: Lincoln Park District, 1400 Primm Road
WHEN: 8 am - 4 pm
Nov. 30 through Dec. 7
WHO: Public
WHAT: Atlanta Aglow; kickoff week for Christmas season in Atlanta
WHERE: Atlanta
Sunday, Dec. 1
SPONSOR: Harvest of Talents for World Hunger
WHO: Public; ticket admission
WHAT: Holiday tour of homes
WHO: Public
WHAT: Stagecoach Inn Children's Christmas Store
WHERE: Middletown
Tuesday, Dec. 3
WHO: Public
WHAT: Victorian Candlelight Courthouse
WHERE: Logan County Courthouse, Lincoln
WHEN: 6-8 pm
Thursday, Dec. 5
WHO: Public
WHAT: Chili supper
WHERE: The Oasis, 501 Pulaski St.
WHEN: 4 pm
WHO: Public
WHAT: Christmas parade
WHERE: Downtown Lincoln
WHEN: 7 pm
Thursday-Sunday, Dec. 5-8
SPONSOR: Lincoln Christian College
WHO: Public
WHAT: Christmas in the Chapel; call 732-3168, Ext. 2295 for tickets
WHERE: Hargrove Chapel, Lincoln Christian College
WHEN: Dec. 5 and 6 at 7:30 pm; Dec. 7 at 11 am, 3 pm, 7 pm; Dec. 8 at 3 pm
Saturday, Dec. 7
SPONSOR: Elkhart Needs & Goals
WHO: Public
WHAT: Community craft sale
WHERE: Elkhart Fire Station
WHEN: 8 am - 4 pm
SPONSOR: Abraham Lincoln Memorial Hospital Auxiliary
WHAT: Luncheon and card party
WHERE: Lincoln Depot, 101 N. Chicago St.
WHO: Children
WHAT: Teddy Bear Picnic
WHERE: 725 Pekin St., Lincoln
Saturday, Dec. 7 (cont)
WHO: Children
WHAT: Kids Day at the Festival of Trees
WHERE: Logan County Courthouse

WHO: Public
WHAT: Christmas tree lighting, caroling, refreshments, drawing
WHERE: Atlanta Firehouse
WHEN: 4:30 pm

WHAT: Chapel candlelight Christmas service
WHERE: Elkhart Hill, Elkhart

Sunday, Dec. 8
WHO: Public
WHAT: Christmas breakfast buffet and bazaar
WHERE: Carroll Catholic School, 111 Fourth St.
WHEN: 7 am - 12:30 pm

WHO: Public
WHAT: Stagecoach Inn Children's Christmas Store
WHERE: Middletown

TBA
WHO: Public
WHAT: LCHS Christmas concert
WHERE: Lincoln Community High School auditorium, 1000 Primm Road

Thursday, Dec. 26
SPONSOR: ALMH
WHO: Grieving adults
WHAT: "Always in Our Hearts" bereavement support group
WHERE: Room 114, Jefferson Street Christian Church, Lincoln
WHEN: 11 am to 1 pm