Don Heller, spokesman for the team, described Lincoln as "a nice, quiet small town that felt very warm and inviting." He said the Abraham Lincoln heritage gives the town a special identity, and every team member had a story about meeting at least one friendly and helpful person. The general observations screen of his video presentation proclaimed, "Impressive town! Friendly People! Helpful People! Town Pride evident!" Heller spoke to a group composed primarily of Lincoln/Logan County Chamber of Commerce members and governmental leaders.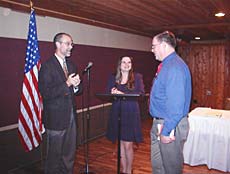 [Photos by Lynn Spellman]
[U of I Extension educator Pat Curry, Canton team member Rhonda Ferree and Extension unit leader John Fulton]
The nine-member Canton team visited Lincoln on June 19. About the same time a team from Lincoln evaluated Canton, answering the same set of questions. The Community Swap program is organized by the University of Illinois Extension. The Lincoln/Logan Chamber of Commerce provided local leadership, and Bobbi Abbott, chamber executive director, led the Lincoln team.
The Community Swap program pairs cities by shared characteristics. M. Patrick Curry, economic development educator for the U of I Extension at the Springfield center, said Lincoln and Canton are similar in population (15,000), average age (39), households consisting of a married couple with children under 18 (20 percent), home ownership (60-64 percent of housing units) and a number of other demographic traits.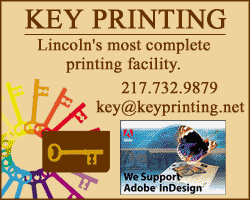 Major differences are that Lincoln has an interstate and more industry. It is also the county seat, whereas Lewistown is the county seat of Fulton County. Canton is spread over a wider area, and the city limits include its prison, skewing some of the statistics. Education and income levels are higher in Lincoln than in Canton.
The Canton team found Lincoln housing to be varied, clean and well kept. They admired the older homes along brick streets and avenues as well as newer, upscale sections. In driving by several real estate listings, they "found that even the lowest priced homes were in desirable neighborhoods," and they saw no slums. Real estate prices were judged adequate and taxes a bit high.
The visitors were confused by the many school systems in Lincoln. Though everyone they talked to was positive if not specific about local education, they thought newcomers must have difficulty choosing schools for their children. An implied recommendation was to establish a single location for information about public and private school choices. Concerning higher education, team members were impressed by the existence and facilities of the three colleges in Lincoln.
They also gave high marks to the central business district, especially the uniform theme and signage, which rated a 10. Comments included "The variety of quaint boutiques is wonderful"; and "There is a great collection of quality merchandise at attractive prices." However, one observer did note the lack of traditional downtown shopping and service elements such as a clothing store and pharmacy. Another was surprised by limited hours at some stores. A third saw some broken glass and sidewalks needing repair.
According to the team report, Lincoln Recreation Center and the Elks Club were hubs of activity on June 19. Both received praise, along with the Lincoln Area YMCA. Heller, who directs the Canton Y, said the Lincoln Y's rope courses are a potential draw to out-of-towners. Parks and athletic fields throughout town were another plus, though the lack of playgrounds or restrooms in some parks drew criticism.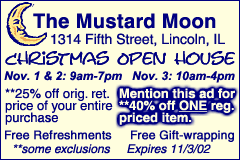 Not surprisingly, the Abraham Lincoln heritage was rated as a great asset. The team admired the chamber visitor's packet with its information on the walking tour, Postville Courthouse, Lincoln College Museum, local festivals and other examples of the community capitalizing on the Lincoln name. Regarding lodging for visitors, they did note the absence of upscale motels or hotels, with only accommodations that were "questionable to adequate."
Highway approaches to Lincoln received generally favorable reviews, with the Route 10 entrance on the east side of town especially praised. However, waist-high weeds were noted at two entrances. One commentator said Lincoln is not taking advantage of its greatest asset compared to Canton, the interstate.
No team member made any significant comments about manufacturing, but not because Lincoln is weaker than Canton on that scale. Curry's data profile lists Lincoln's average per capita manufacturing sales at $284, compared to $251 in the state and $52 in Canton. In response to a question, Heller admitted that Canton's 10-year enterprise zone and small industrial park have not worked as well as citizens would like. He said the park is dwarfed by the 33-acre former International Harvester site in the center of town, which an individual is currently developing.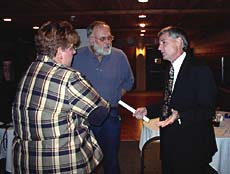 [Chamber board president Mary Conrady,
county board member Terry Werth and
Canton team member Don Heller]
Other areas the visitors investigated were infrastructure, health care, retail shopping outside the downtown area, retirement services and churches. For all, the team report describes institutions, facilities and services and gives a generally favorable assessment. Streets and roads are rated above average but poorer toward the edge of town. The report indicated an absence of stop or yield signs at some residential intersections.
The Canton team included Bob Molleck, retired police chief and alderman; Dave White, school administrator and city budget administrator; Dennis Crawford, retailer; Matthew Keith, pastor; Phyllis Jarvis and Tonya Huff, Realtors; Rhonda Ferree, U of I Extension unit leader; Stacey Lee, photographer; and Heller.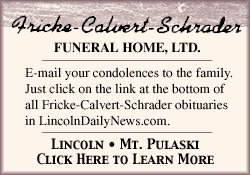 The Lincoln visitors to Canton were Abbott; John Fulton, Logan County Extension unit leader; Becky Werth, Realtor; Fred Plese, Lincoln Community High School superintendent; and Jan Schumacher, Main Street Lincoln president. Abbott said the team could have used more members. To inspect the city and fill out the 15-page questionnaire in a single day was daunting. She brought home from Canton the idea of lamppost banners to denote an area of historic homes.
Curry noted that Lincoln and Canton are the closest cities to be paired by the Illinois Community Swap program. This is the second time Lincoln has participated. Previously Main Street Lincoln representatives exchanged insights with peers in Dixon.
Prior to the team report Curry presented population and business statistics. He said that, according to the 2000 census, about 14 percent of Lincoln's population is 60 or over, a low proportion. Instead, the bulk of Lincoln's inhabitants are baby boomers. Whether they stay or move away when they retire will be a major factor in the city's future, he predicted.