What's new in downtown Lincoln?
By Cindy McLaughlin
[APRIL 18, 2003] In the past few months some new businesses have joined our downtown Lincoln family. Now & Then Books is located on Kickapoo Street, and Lincoln Antique & Furniture Center is at 112 S. McLean St.
We will be celebrating National Historic Preservation Week May 5-12. We will recognize the history of the Arcade Building with a commemorative poster designed by AMP Studio.
The Dog Daze of Summer will be June 21. We had a great turnout last year, and we can't wait for this year's event! Join us downtown with your dog to watch demonstrations and participate in a pet parade and contests. We have added a new element this year with a pet psychic. She will do readings on-site with your pet or a photo of your pet.
And last but certainly not least, a new "FUNdraiser" is in the works. "Who Let the Dogs Out?" is patterned after the painted cows of Chicago that were displayed along Michigan Avenue. We will be displaying fiberglass dogs throughout the downtown. The displays will be unveiled at Dog Daze on June 21 and remain until mid-September.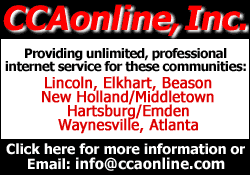 We are currently seeking sponsors for these dogs. Sponsorships are $275, which includes the price and shipping of the dog. Sponsors will receive 12 weeks of advertisement through media, brochures and signage. The dogs will be displayed during this year's Lincoln Art & Balloon Festival and the sesquicentennial celebration.
Main Street will help coordinate sponsors with artists if requested. All of the dogs will be auctioned off at the end of the sesquicentennial celebration and will go home with their new owners in mid-September. Take a look at some of the samples and let your imagination go!!
[Cindy McLaughlin, executive director,
Main Street Lincoln]