Send a link to a friend
Lincoln Junior High groundbreaking
[NOV. 13, 2003] Metal folding chairs set in the middle of the road between Ottawa and Kankakee streets detoured drivers on Broadway Street at a little before 10 o'clock Wednesday morning. Leaves swirled and rattled in a balmy breeze, and a small crowd began gathering at the site, where oversized construction vehicles were ready to roll.
Soon junior high students poured out of their classes in the old Central School building to join the now large crowd assembled as witnesses. This was the groundbreaking ceremony for their new school building. Hundreds of students, teachers and other interested people enjoyed the sunny, warmish 60-degree weather as they gathered in front of the site, which has long been home of Lincoln Junior High.
The old school building was razed this summer in preparation for a new and improved building. It opened in 1926 as Lincoln High School and later became the junior high. The old school building had occupied the site 77 years, as long as anyone present could remember.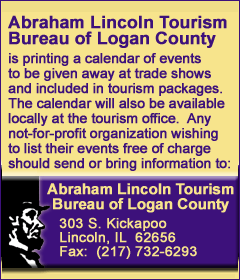 As the Lincoln Junior High band played on the sidewalk, dump trucks and heavy equipment were running on the site to level the land in preparation for the construction crews. Principal Curt Nettles spoke above the engines to introduce important guests like state Rep. Rich Brauer, Mayor Beth Davis, Lincoln City Council members and Logan County Board members. He also introduced the Kids First committee, the group who worked to make the new school buildings possible, as well as representatives from S.M. Wilson and Lincoln YMCA.
[to top of second column in this article]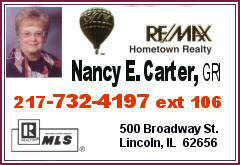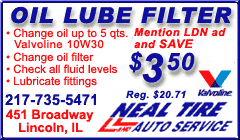 Rep. Brauer and Mayor Davis both made brief comments, and District 27 Superintendent Robert Kidd expressed appreciation for the community's support in the building projects for both the junior high and Central School. The school board president, Bruce Carmitchel, also spoke at the event.
After the various speeches, the District 27 Board of Education, along with Rep. Brauer, Mayor Beth Davis, the men from S.M. Wilson and several former administration staff members from the school donned hard hats and wielded gold-tipped shovels for the ceremonial groundbreaking, as the band played a celebratory tune in the background.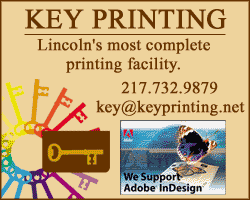 In closing remarks, Nettles thanked the students for their help in preparing for the ceremony and thanked teachers and students alike for the sacrifices they have made, and continue to make, in having school in the old Central School building. Although most of the students on hand for the ceremony will not be able to enjoy the new building, they showed maturity and enthusiasm for the construction plans and the people who have made it all possible.
The new Lincoln middle school building is slated for completion by the fall of 2005. It will be exciting to watch the progress as the new building goes up.
[Ruth Halpin]