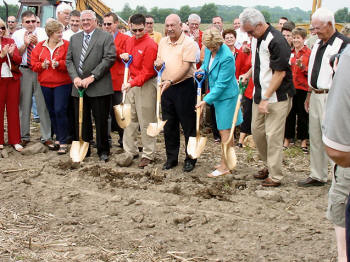 Lincoln and Logan County welcome Robertís Sysco Food Service
It was a big, warm (in more than one way, at 82 degrees, 74 percent humidity) gathering as government officials and the community welcomed the warehouse/distribution company this Friday morning. The groundbreaking at Fifth Street and Connelly Road was a high point of efforts that have brought the company to Lincoln from Springfield.
State Rep. Rich Brauer commented that it is a world-class community welcoming a world-class company. He said he called Lincoln a world-class community because he has never seen so many people from the community come out for a groundbreaking as were present today.
Sen. Larry Bomke echoed other comments, saying that this shows what can happen when people work together.
[picture by Butch King] click on picture for larger image