October 2007

Send a link to a friend
---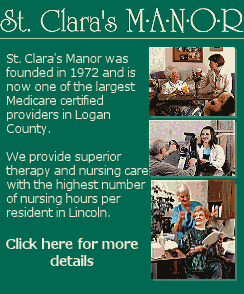 Wednesday, Oct. 24
Town hall meeting
SPONSOR: Pat O'Neill, Logan County Board member
WHO: Public
(See letter.)
WHERE: Lincoln Junior High School
WHEN: 6-8 pm
Thursday, Oct. 25
Town hall meeting
SPONSOR: Pat O'Neill, Logan County Board member
WHO: Public
(See letter.)
WHERE: Chester-East Lincoln School
WHEN: 6-8 pm
Thursday-Saturday, Oct. 25-27
Lincoln Jaycees Fear Fair
SPONSOR: Lincoln Jaycees
WHO: Public, by admission
DETAILS: www.lincolnjaycees.com
See the freakish sideshows and get lost in central Illinois' longest, darkest maze. But be prepared, you are not alone in the dark!
WHERE: Logan County Fairgrounds
WHEN: 7-10 pm Thursday, 7-11 pm Friday and Saturday
Friday, Oct. 26
Health fair for women of all ages
SPONSOR: The Christian Village, Abraham Lincoln Memorial Hospital, Logan County Health Department and Lincoln Park District
WHO: Women
DETAILS: Free health screenings and informational displays. Refreshments provided. Door prizes and giveaways for participants. For more information call Marcia Cook, Christian Village community nurse liaison, at 217-732-2189.
(See article.)
WHERE: 1500 Seventh St., Christian Village Senior Apartments
WHEN: 1-4 pm
Fundraiser soup supper before Meet the Eagles night
SPONSORS: Eighth-grade class and parents of Zion Lutheran School, Lincoln, and local area businesses
DETAILS: Chili and vegetable soup supper, hot dogs, drink and dessert. Then stay and "Meet the Eagles."
All money raised for eighth-grade trip.
WHERE: 1600 Woodlawn Road
WHEN: 4:30-6:15 pm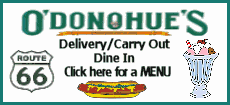 Through Oct. 27
Harvest of Talents license plate display dates
SPONSOR: Harvest of Talents for World Hunger
WHO: Owners of vehicles registered in Illinois
DETAILS: Special event license plates produced through the Illinois Secretary of State's office available for $25 per set. Applicants need to provide driver's license number and legible copy of vehicle registration valid through October or beyond.
WHERE: From Lincoln Christian Church
WHEN: Monday-Friday 8-5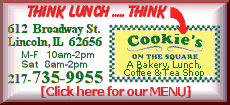 Saturday, Oct. 27
Harvest of Talents for World Hunger
SPONSOR: Harvest of Talents for World Hunger
WHO: Public
DETAILS: 24th annual event. All proceeds go to world hunger relief through International Disaster Emergency Service. No admission fee; open to the public; handicapped-accessible; plenty of free parking. Lots of handmade items for sale throughout the morning. Monitored coat-check room. Silent auctions. Snack items available at outside tents. Large dining area inside with carryouts available. Fresh South Dakota potatoes, 50-pound bags and smaller. Aluminum cans and printer ink cartridges accepted for recycling.
(See article.)
WHERE: Lincoln Christian Church, 204 N. McLean
WHEN: Doors open at 7 am
7-10 am -- Breakfast: homemade caramel pecan and cinnamon rolls
10 am-1 pm -- Lunch: H.O.T. vegetable soup, barbecue sandwiches, homemade pie and bread
9-11 am -- Special activities for grades K-6
2 pm -- Live auction of unique, one-of-a-kind handcrafted items, including original design hand-stitched quilts, comforters, wall hangings, fine needlework, artwork, woodworking, cartoon art, items for sports fans, refurbished vintage objects and more!
Blood drive
WHO: Public
DETAILS: To schedule an appointment, call 1-866-GIVE-BLD (1-866-448-3253), ext. 56, or sign up online at www.cicbc.org.
(See article.)
WHERE: Movie Gallery, 616 Woodlawn Road
WHEN: Noon-4 pm
Soup supper and bake sale
SPONSOR: Middletown United Methodist Church
WHO: Public invited
DETAILS: Vegetable soup or chili and dessert. Carryouts available.
WHERE: Middletown United Methodist Church
WHEN: 4-7 pm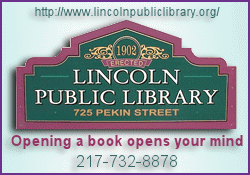 Monday, Oct. 29
CICBC blood drive
SPONSOR: Lincoln College
WHO: Public
(See article.)
WHERE: Meyer-Evans Student Center, Lincoln College
WHEN: 10 am-3 pm
Free asthma seminar for adults: "Breathe Well, Live Well"
SPONSOR: Abraham Lincoln Memorial Hospital
WHO: Adults with asthma
(See article.)
WHERE: ALMH
WHEN: 6:30-9:30 pm
Calligraphy class begins
SPONSOR: Logan County Genealogical and Historical Society
(See article.)
WHERE: 114 N. Chicago
WHEN: 6 pm
Dining with Diabetes
(Last of three sessions)
SPONSOR: University of Illinois Extension, Logan County Unit
WHO: Public, by registration
(See article.)
WHERE: Logan County Extension office
WHEN: 6:30-8:30 pm
DivorceCare seminar and support group
SPONSOR: Jefferson Street Christian Church
Watch for more information in Lincoln Daily News.
WHERE: 1700 N. Jefferson St.
WHEN: 7-9 pm
Oct. 30-Nov. 11
Quilt show
SPONSOR: Lincoln's Logan County Arts & Craft Guild and Postville Courthouse
WHO: Public
Watch for more information in Lincoln Daily News.
WHERE: Postville Courthouse, 914 Fifth St.
WHEN: Tuesday through Saturday noon-4 pm and Sunday, Nov. 11
Tuesday, Oct. 30
Lincoln Jaycees Fear Fair
SPONSOR: Lincoln Jaycees
WHO: Public, by admission
DETAILS: www.lincolnjaycees.com
See the freakish sideshows and get lost in central Illinois' longest, darkest maze. But be prepared, you are not alone in the dark!
WHERE: Logan County Fairgrounds
WHEN: Weekdays 7-10 pm
Wednesday, Oct. 31
Lincoln Jaycees Fear Fair
SPONSOR: Lincoln Jaycees
WHO: Public, by admission
DETAILS: www.lincolnjaycees.com
See the freakish sideshows and get lost in central Illinois' longest, darkest maze. But be prepared, you are not alone in the dark!
WHERE: Logan County Fairgrounds
WHEN: Weekdays 7-10 pm