Several guests were present as well: David Pistorius of First Midstate, soon-to-be Logan County State's Attorney Jonathan Wright and Mark Hilliard, administrator for the Logan County Department of Public Health

Early in the meeting, the board unanimously agreed to the issuance of $600,000 in taxable general obligation bonds for the year 2013. This is the current estimated amount that would be needed to cover major criminal cases -- the Gee family murder trials that are scheduled to begin and could end in 2013.

Pistorius explained to the board that the initial petition was approved for $1 million. The full amount would be available to the county for up to three years. The county would still be able to go back and take out another $400,000, if needed later.

Finance chairman Chuck Ruben said that the annual payments would range between $42,000 to $48,000 and would carry a 4.542 percent interest rate over the life of the bonds.

The board then unanimously approved the 2013 budget and levies that had been on display for 30 days.

The board also approved annual renewal of property, liability, casualty and workers' comp insurance at $220,611 with CIRMA, which Jan Schumacher said is a 1 percent increase.

In the field of economic development, it was with some excitement that Bill Martin announced: "We received the official word from Washington, D.C., on Monday that Logan County is now part of the Central Illinois Economic Development District."

This was a long-awaited call -- four years waiting since Logan County submitted its Comprehensive Economic Development Strategy for approval. Logan County took the advice of then-congressman Ray LaHood and, working with the Peoria-area economic development to gain a regional strength, piggybacked the Logan County CEDS with the central Illinois group.

CEDS aids in federal loan and grant processes and approval for development and infrastructure projects.

In other matters, Sally Litterly, county clerk and recorder, reported that hotel-motel tax collected in October and going to tourism at 4 percent came to $16,730 and for Main Street Lincoln at 1 percent, $4,183.

Several road and bridge matters were brought before the board. A contract for construction with the Mount Pulaski Road District, a bridge inspection agreement with Thomas Hammel and Richard Boblitt at $130 per bridge, and a high-speed rail local roads engineering review were all unanimously approved.

Gene Rohlfs said that the floor for the new T-hangar at the airport had been poured that day.

A motion to discontinue the cleaning contract with Mrs. Dahmm for the John Logan Building was voted to send back to committee.

The board unanimously agreed to accept an engagement letter contracting CliftonLarsenAllen to do the county's annual audit. Ruben said it would be at the same cost, an hourly rate that is determined by how much time it takes working with the county departments.

On a public health and food matter, during this month's executive and economic development committee meeting, Terry Carlton raised a concern over the shutdown of food being served free at a public event during Lincoln's homecoming in September.

The food in question at the fall event was chili that had been prepared in homes, not prepared in an approved kitchen or under food handler guidelines that include storage and temperature regulation.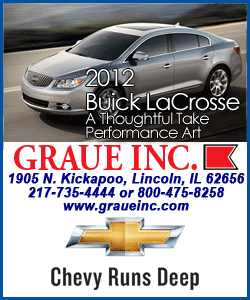 During discussion it was noted that the food was being given away, not sold. This could affect any number of events, including church potlucks, business customer and staff appreciation, and other social activities and mixers serving food.
The committee agreed that this should be looked at a little closer. Carlton suggested that it would be important to define: "What is a public food service event?"
David Hepler, county board liaison to the Board of Health, said that he and Carlton had met on Monday with the county's public health administrator, Mark Hilliard, and the department's director of nursing.
While Hilliard was present on Thursday, and Carlton was asked if he had anything to say, he responded: "I have nothing at this time. I'm good."
This was Bob Farmer's last meeting as chairman of the board this term. At the meeting's close he said: "I want to thank everybody. It's been a pleasure, it really has. And I'd like to thank David Hepler for being vice chairman. He's done a wonderful job."
[By JAN YOUNGQUIST]
Past related articles on bond issue and funding major criminal trial
___
What is CEDS and what went into the Logan County CEDS?
CEDS is defined by the Economic Development Council for Central Illinois as "the result of a local planning process designed to guide the economic growth of an area."
"A CEDS process will help create jobs, foster more stable and diversified economies and improve living conditions. It provides a mechanism for coordinating the efforts of individuals, organizations, local governments and private industry concerned with economic development. In order for projects to qualify for Economic Development Administration assistance under its public works, economic adjustment and most planning programs, the project must be consistent with the goals and objectives set out in the CEDS."
Logan County Regional Planning Commission FAQ sheet
(Explains interrelatedness of the comprehensive plan, GIS, CEDS and Greenways Plan)
Past articles related to CEDS
Related websites
To read the current CEDS document for the Economic Development Council for Central Illinois, click here (PDF).