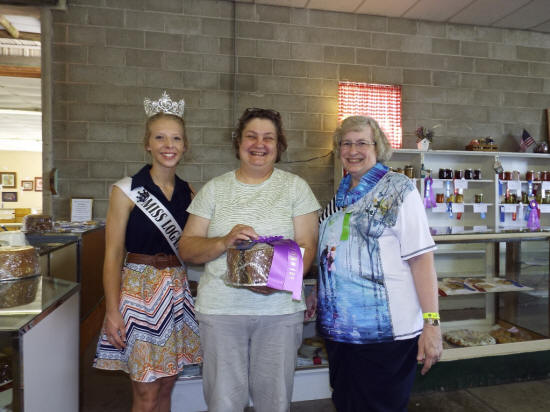 Miss Logan County Fair Queen Molly Schempp, Jeanne Runyon and Kathleen Emery
Saturday and Sunday at the Logan County Fair will be jam-packed with great entertainment events and other activities. Among those will be the Cake Classic Bake-off and Auction held on Sunday. This year there will be some amazing bakers at the cake classic including Karen Sandel, Jeanne Runyon, Carlene Carter, Dana Oltmans, Faith Sanders, Daniel Crider, Joyce Conrady, and Darlene Crider. Look for Jeanne Runyon to be baking a chocolate cake with chocolate frosting. This is the recipe that won her Best Over All Cake on Friday at the preliminary judging.

The Cake Classic Auction is a fundraiser for Logan County 4-H. To date, the highest total amount raised at the auction has been $3,950. So, grab those checkbooks and come on out for a chance at a sweet treat and let's see if we can't break $4,000 and set a new record in 2018!

Photo by Nila Smith (Click on image for larger version)