It's time to Spring Forward!
On Saturday night, turn your clocks FORWARD one hour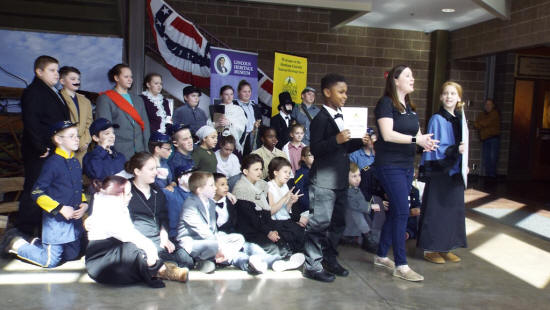 On Friday, the fifth grade classes from Central, Northwest, and Washington-Monroe Schools participated in a Civil War Walk at the Lincoln College, Lincoln Heritage Museum. The schools arrived in shifts and dressed in Civil War replica clothing offered interpretations of various people and scenarios that are a part of the U.S. history from the early1860's.

At the end of each session the kids gathered in the atrium with Museum Director Anne Moseley. There, they participated in the making of a birthday video for the Looking for Lincoln Heritage Coalition. That organization is celebrating its 10th anniversary. Moseley made a few comments for the video and then in unison all the kids called out "Happy Birthday!" to the Looking for Lincoln organization.

Looking for Lincoln website The Lincoln Heritage Museum, Postville Courthouse, and Mount Pulaski Courthouse are all listed as main attractions within the Abraham Lincoln National Heritage Area on the website.
Photo by Nila Smith (Click on photo for larger version)