Today we call it a wrap for the October Paint the Paper Pink project by bringing you the last three photos of the month. First, thanks to Ace Hardware who sent us their picture on the last day. We love the staff at Ace and are delighted that they chose to be a part of this year's photo collection.

The last two pictures are the staff and owners of CCAOnline and Lincoln Daily News. We began the month with a picture of the fine folks at Collision Concepts and end the month with CCA and LDN as it is these three groups that have been the foundation of all that we have accomplished for breast cancer awareness this month. All three groups have members in the Friends and Family Relay for Life team and all three groups contributed to the fundraising and awareness efforts in October.

From all of us at CCA, LDN, and Collision Concepts thanks for your generosity in supporting our Pink Pumpkin Fundraiser.

From LDN thanks to the more than 1,200 people who posed for 123 pink photos for this year's Paint the Paper Pink project.

We count you all as friends, and feel very blessed that we have so many!
(Click on image for larger version)
Click here to see all the Pink Pictures published to date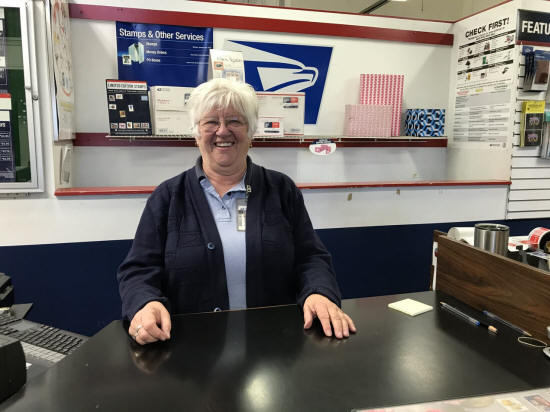 Today is the day, Lincoln! Stop in and say goodbye to Sharon Tibbs. Tibbs is retiring today from the United States Postal Service after 48 years. Tibbs began her career on November 28, 1970 when the price of a stamp was six cents. In retirement Tibbs plans on moving from her home in New Holland to be closer to family near Chicago. She also plans on spending the winter months in California with her brother and his family.

While reflecting on her time at the Lincoln Post Office, Tibbs said, "I can't think of any one special memory but I can say that I take many memories from the people I have worked with and the people of a community I have worked in. I guess I can truly say thanks for the memories."
Tibbs is pictured here with Kayla Doucette of Lincoln. Doucette was hired a few months ago and Tibbs had the opportunity to train her "replacement." Doucette, along with the rest of the Lincoln Post Office employees, will miss Tibbs. Fellow employees who have worked with Tibbs for many years were known to tease her about "the good old days." Roger Bakken for one was always asking her, "So what was it like to work when Abe Lincoln was around?" Tibbs just always laughed good-naturedly. She will be missed.

Enjoy retirement, Sharon, you have more than earned it!
Photo by Teena Lowery (Click on image for larger version)