Many rural roads may be slick, ice covered
Sunday Morning. I-55 partly snow and
ice covered, travel is slow and may be
dangerous. If you have a choice, stay home.
Knox-Stark-Peoria-Marshall-Woodford-Fulton-Tazewell-McLean-
Schuyler-Mason-Logan-De Witt-Cass-Menard-Scott-Morgan-Sangamon-
Christian-Macon-
Including the cities of Galesburg, Toulon, Peoria, Lacon, Eureka,
Canton, Pekin, Bloomington, Normal, Rushville, Havana, Lincoln,
Clinton, Beardstown, Petersburg, Winchester, Jacksonville,
Springfield, Taylorville, and Decatur
751 AM CDT Sun Apr 14 2019

Periods of snow and sleet will occur into midday across a portion
of central IL, especially along and west of I-55. Between 1 and 2
inches of snow is expected by 2 pm with locally higher amounts
in heavier snow bursts over the IL river valley where visibilities
are restricted to less than a mile. Some untreated roads could
get slippery from slushy snow during this morning especially on
bridges and overpasses.
Graphical depictions: https://www.weather.gov/ilx/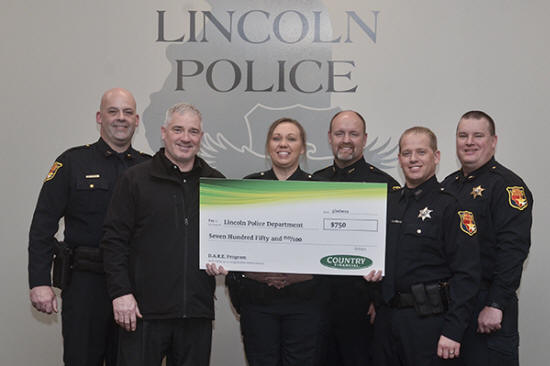 The Lincoln Police Department was the recent recipient of a $750 gift courtesy of the Country Financial Operation Helping Heroes project and local representative Joe Ryan.

Left to right are Lincoln Police Deputy Chief Matt Vlahovich, Joe Ryan, Officer Christy Fruge, Chief Paul Adams, Officer Chad Eimer, and Cpl. Shawn Pettit.

The money will be used with the department's DARE program, which is managed by Officer Fruge with assistance from Officer Eimer and Cpl. Pettit.
Photo provided by Joe Ryan (Click on Image to enlarge)