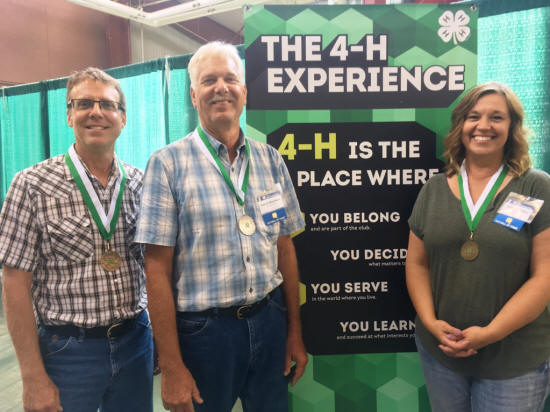 The University of Illinois Extension District 16 serves Logan, Menard and Sangamon Counties. This year District 16 is pleased to announce that each county had a representative inducted into the 4-H Foundation Hall of Fame at the Illinois State Fair on August 13th.

From Logan County the inductee is Pam Tibbs, who is the leader of the Hollanders 4-H Club in the New Holland area. Pam has led the group for the past 15 years and has been involved in 4-H her entire life. She is also a great supporter of other 4-H activities serving as 4-H Foods Superintendent and chaperoning Logan County members on their trips to Washington D.C. for the Citizenship Washington Focus program. She is also a member of the 4-H Alumni Club, helps plan and participates in many of the activities of that group including the annual chili and chocolate event held in February at the extension office.

L to R: Mark Schreiner (Menard County inductee), Dave Morrison (Sangamon County inductee) and Pam Tibbs (Logan County inductee).
Photo provided by Patty Huffer (Click on Image to enlarge)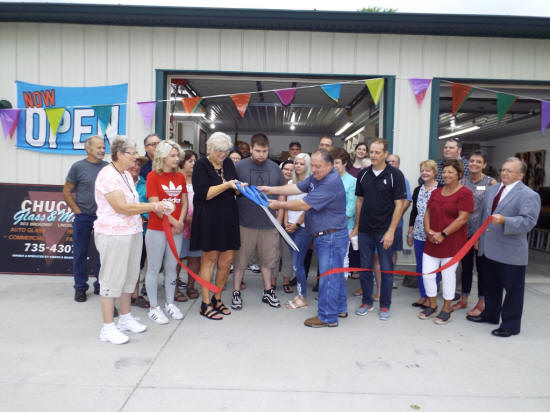 Chuck and Sharon Jeagle snip the ribbon on their new location Tuesday morning as friends and family look on. The couple own and operate Chuck's Glass and Mirror in Lincoln and recently moved to a new location at 221 South Sherman Street. The ribbon-cutting ceremony was well attended by friends and family as well as local business owners and members of the city and county government. After the cut, everyone was invited to stay and visit, and enjoy sweet treats with the Jeagle's.
Photo by Nila Smith (Click on Image to enlarge)