Eileen Mullins (left photo) of Sir Renna Tea holds the Pink Pumpkin Auction item she donated for tonight's auction as she poses for her pink shirt picture for October Breast Cancer Awareness. Eileen has put together a great basket that features among other things a selection of the marvelous teas she sells in her shop.

Not to be outdone, the "Ladies of Heartland Community College Lincoln" (right picture) hold the fun and functional Pink Pumpkin that they have donated to the auction. The pumpkin is filled with cute office supplies and other accessories for the work office or home office.

All of these gals are posing for pictures to let you know; you are not alone if you are in the battle. They all support you and pray for you to be our next local 'Survivor!'
Photos by Karen Hargis
---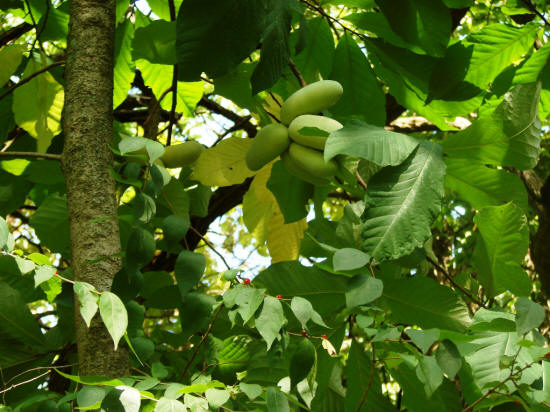 You have heard of paw paws, but did you know they are growing right here in Logan County. Joe Funk at Kickapoo Creek Park recently took Curtis Fox on a sight-seeing walk around the park. He pointed out the fruit growing on a nearby tree and said it was an "Illinois Banana."

Paw paws have a sweet taste that is a mix of mango and banana. The trees are native to the eastern United States and Canada. Funk says the crop this year is doing very well.

The paw paws are just one of the sights that can be seen as you explore the park. Fox found a few more that will be shared in today's edition.

Also, fall is a great time to visit the park, why not make plans to take a leisure stroll sometime soon and see what wonders you find.
Photo by Curtis Fox