| | |
| --- | --- |
| Camel's Hairem | Doggie Stylez |
| John Lambert Allstate Insurance | Logan County Breast Cancer Support Group |
The pink shirt pictures in today's edition include the staff from Camel's Hairem in Lincoln, members of the Logan County Breast Cancer Support Group, Allstate Insurance Agent John Lambert and Shasta Lilly of Doggie Stylez. So what do these four groups have in common? In addition to understanding the importance of breast cancer awareness, they were all four donors at the Pink Pumpkin Fundraiser Auction. Lambert and the ladies of the Logan County Breast Cancer Support group donated items for the pink pumpkin auction. Shasta and the gals from Camels Hairem put together baskets of items from their businesses for the silent auction. These are just four of the more than 130 auction items entered in the silent and live auctions. A complete listing of all the donors is in today's edition of Lincoln Daily News.
Photos by Karen Hargis
See: 2019 Paint the Paper Pink - Pink Shirts for Breast Cancer Support - Album

---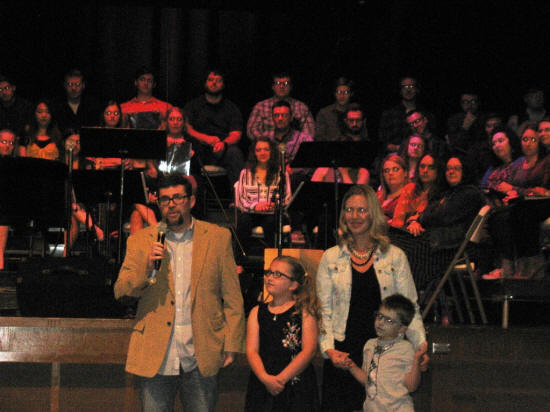 Lincoln Christian University celebrated its 75th Homecoming this past weekend. A significant announcement was made at the celebration of a successor for current LCU President Don Green. Dr. Green announced that Dr. Sila McCormick has been appointed and will take the position effective June 1, 2020. Dr. McCormick has been with the university since 2010.
Photo by Angela Reiners