Today's pink picture features the fine folks at Deep Roots Bakery and Cafe. The group is all decked out in their pink shirts because they know that they have friends, family and even customers who understand what it is like to hear the words "you have cancer." They show their support wearing their pink for breast cancer awareness month.
Photos by Karen Hargis
---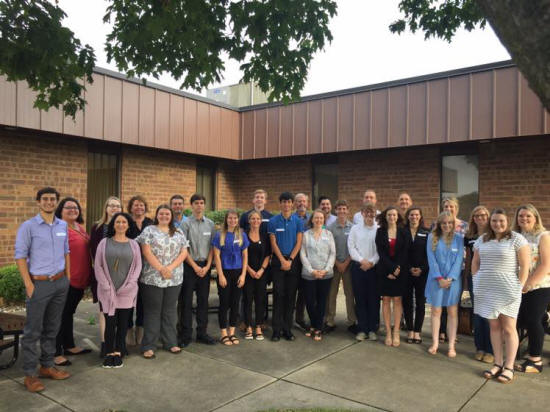 Thirteen area high school juniors and seniors are participating in the Lincoln Land CEO program for the 2019-20 school year. The students were recently assigned their mentors, business professionals from around the county.

The students in the class this year are: Moriah Prather, Josh Wright, Teagan Wyss, Chase Mayberry, Grace Frye, Connor Noreuil, Annagrace Keller, Ruthie Ruhl, Eli Hewitt, Baylee Young, Luke Doolin, Mia Young and Bayleigh Gillum.

Mentors include: John Radloff of Graue, Inc.; Brad Nikles of Nikles of Petersburg; Roni Shelton of Roni B Photography; Rachael Judd of Small Town Social; Nicole Cox of Yours Truly Bakery; Patrick Doolin of Integrity Data, Inc.; Abby Coers of Central Illinois Ag; Lesleigh Bennett of Bennett & Holland & Barry Funeral Home; Seth Goodman of ME Realty; Sarah Stuart Faith of Stuart Solutions; Matthew Xamis of Jim Xamis Ford; Kathie Williams of Small Town Creations and Vanessa Komnick of Blades.
Photo by Jennifer Keith