For the latest news, press your refresh key (F5)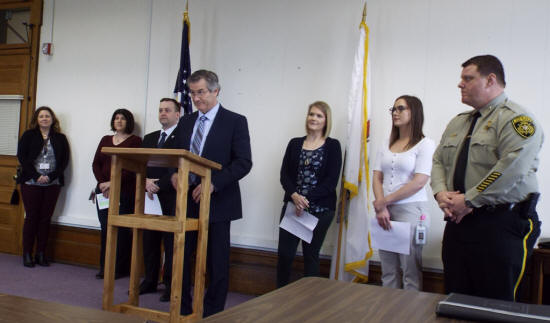 Logan County Department of Public Health Administrator Don Cavi came to the podium during a press conference Friday morning at the Logan County Courthouse. In the background were Angela Stoltzenburg representing Abraham Lincoln Memorial Hospital, Kara Davis with LCDPH, Logan County State's Attorney Brad Hauge, Logan County Board Chair Emily Davenport, Salena Matson LCDPH Emergency Response Coordinator, and Sheriff Mark Landers.

The group was on hand to announce that the county is issuing a Disaster Proclamation in response to COVID-19. The proclamation opens the county up to additional resources of supplies and equipment that will be needed if and when the coronavirus arrives in Logan County.

Cavi reiterated that as of Friday morning, there are NO confirmed cases of coronavirus in Logan County. Eight people have been tested. Two were found negative and the other six test results are still pending.
Photo by Nila Smith [click on picture for larger image]
Local
COVID-19 RELATED NEWS, CHANGES, CANCELLATIONS & INFORMATION
NEW TODAY
STATE & FEDERAL NEWS
LOCAL IMPACT
---- CHANGES AND CANCELLATIONS ----
Be sure to check for cancellations list before heading out to any sports, entertainment or large venue. We're all working to prevent the spread of this contagious illness that hits persons with poor heart and lung health, and older people hardest.
---- INFORMATION ----
Coronavirus Prevention and Control
What every American and community can do now to decrease the spread of the coronavirus - CDC

| | |
| --- | --- |
| | Opinions & editorials |
PRITZKER ORDERS ILLINOISANS TO 'SHELTER IN PLACE' UNTIL APRIL 7 Illinois Policy Institute
[click for larger image]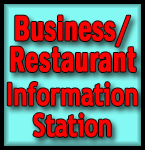 ---
Upcoming
Civic Events
click on buttons for
additional information













---
CLASSIFIED ADS

Auctions

(2 Ads)
(6 Ads)


Employment
(11 Ads)

Garage Sales
(--)

Legal Notices
(--)

(--)


Misc. for Sale
(2 Ads)

Pets/Animals
(--)


(4 Ads)
(3 Ads)

Services
(1 Ad)

Businesses & Franchises for Sale
(--)
| | |
| --- | --- |
| A collection of LDN's finest periodical projects | |
STATE & FEDERAL NEWS
LOCAL IMPACT
Contact Us:

Lincoln Daily News

601 Keokuk St.

Lincoln, IL 62656

News:
217-737-3613
ldneditor@lincolndailynews.com

Advertising:
217-737-7418
ads@lincolndailynews.com

Locally owned and operated since 2000. LDN is an independent news organization and is not associated with any other local, national or international news organizations.

All rights reserved. Copyright 2020, Lincoln Daily News