Quarter-million-dollar sewer bill
dumped on city

Send a link to a friend
[AUG. 13, 2003] Not much was said by council members as City Attorney Bill Bates and the wastewater treatment manager from EMC, Grant Eaton, unfolded an unpleasant reality that the city faces. They explained a situation that has developed with the new construction at the sewer plant.
Bates received a request for additional compensation from the company that is performing the new construction. Femley-Dickerson has submitted an itemized bill of $224,387 in additional costs that they have paid out.
Early in the construction process "structure 45" ran into complications. The 25- to 30-foot excavation had groundwater seepage. Femley had to take several measures, which included digging a well to relieve water pressure, pumps to remove water, sediment removal, additional bond liability and so on, to deal with the problem.
Eaton confirms that the company has had additional costs to deal with unexpected complications. He and Perric, the construction company that is on-site, are reviewing the claim thoroughly.
Bates said he will need their help and the input of the aldermen in preparing the city's response to the claim, which is due by Aug. 29.
[to top of second column in this article]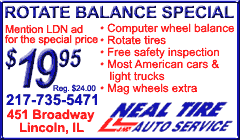 There is some question over the soil percolation tests done for the pre-construction assessment. Experts from the pretesting and experts consulted by Femley disagree about the conditions of the site. Bates is recommending that the city go back to the company that took the first soil-boring tests for further consultation. It will probably cost about $3,000 to have MES act as consultants in the matter.
"Nobody is going to question the fact that structure 45 was a difficult site," Bates said. "The question is, who is going to pay?"
"I can tell you right now that I won't be recommending that we pay the dollar amount in the claim," he said.
"This is an ongoing matter that isn't going to go away," Bates concluded.