There was a parade, there were contests and prizes, and there was lots of love. The day even included a pet psychic, wading pools for the dogs to cool off in and a demonstration put on by the Lincoln city police canine unit showing how their police dogs serve the public. Most importantly Dog Daze offered the people attending information about how to help dogs that need loving homes and provided opportunities to adopt a pet while there. The day was filled with fun, love, pride and all of those good old family values that the city of Lincoln exemplifies.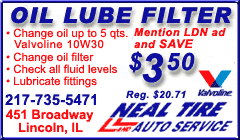 The morning began with registration on Sangamon Street across from the Blue Dog Inn while the song "Puppy Love" filled the air more and more dogs arrived. Twenty-seven owners had preregistered their dogs prior to the on-site registration.
At first only a few dogs were waiting for the day to start, but as parade time drew near the street was packed with dogs. The dogs came in all shapes and sizes. Some dogs were standoffish. Others sensed the excitement and wanted to mingle. Some came dressed for the occasion while others came as their natural selves. Some dogs were nervous, this being their first time participating in the event, while those dogs that had been here before put on an appearance of calmness, casually awaiting the parade to start.
While the dogs went about their business, most of their owners stood by, attending to their dogs' every need or trying to keep them calm until notice to begin the parade came. As the crowd of dogs assembled, event judges also visited with them. Even Abraham Lincoln was present to see the dogs.
At 9:30, Mikey, a 3-year-old golden retriever accompanied by owner Kim Schreiber, led the parade of dogs from Sangamon Street to Kickapoo Street in front of the Logan County Courthouse. Mikey was last year's "Abe's Choice" at Dog Daze. By the time the parade began, the lineup of dogs stretched from in front of the Blue Dog to the intersection of Pulaski Street. The dogs majestically walked the parade route.

[Mikey with owner Kim Schreiber]
As the dogs arrived at the downtown square, they found a large crowd of people awaiting them. They were now in the staging area where contests would be held, where some dogs would perform tricks and where the winners of this year's contests would be announced. Prizes would be given out to their owners, and the "Who Let the Dogs Out" dog art was included. The dog art was purchased by sponsors and consists of fiberglass dog statues that artists uniquely decorated with paint, mirrors, metal, decoupage and other materials. These statues were shown in the windows of many Lincoln businesses.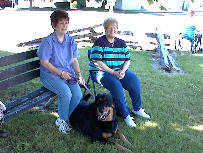 [Ditka watching the action in the shade.]
Many dogs participated in contests, such as the largest and the smallest dog, the dog with the longest tongue, and the best dressed dog. Dolly Joe, a 17-month-old Saint Bernard owned by Bill Timm, took part in the largest dog contest. Ditka, last year's largest dog, sat in the crowd and watched, choosing not to participate this year.
Luna, a 2-year-old sheltie owned by Cindy Holton of New Holland, presented a frisbee catching trick for the onlookers to enjoy. Koko, a dachshund owned by Val Carder, came dressed as a Lincoln Railsplitter fan. One dog demonstrated how fast it could wag its tail.
[to top of second column in this article]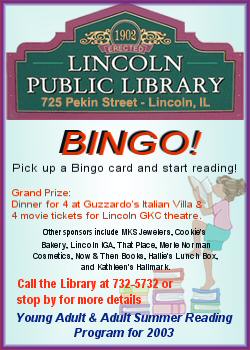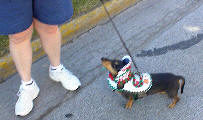 [Koko is dressed as a Lincoln Railsplitter Fan.]
On the courthouse lawn two separate groups presented information about how to help dogs in need. Logan County Animal Control brought several dogs for people who were looking for a pet to consider adopting. People could adopt dogs for as little as $65 and take a new friend home with them. Three lucky people adopted dogs at the event. For anyone interested in adoption, Logan County Animal Control is located at 1517 Kickapoo St. Their website is www.geocities.com/logancountyac/.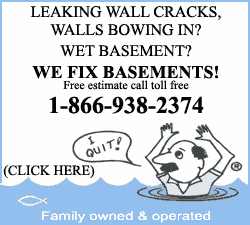 Another humane group present was Peoria Greyhound Adoption. This group provides greyhounds that formerly raced. Greyhounds have to retire after they are 5 years of age. Some greyhounds, if they are not up to speed and are not winning races, are retired earlier, at any age. In the past when greyhounds were retired they were left to die or put to sleep. Groups like Peoria Greyhound Adoption have formed to put a stop to this kind of treatment. In doing so they have saved the lives of many dogs.
Tara Overton Hennessy of Lincoln adopted two 4-year-old greyhounds. Her dogs, Izzy and Ava, originally raced in Kansan City, Kan. She said that they are wonderful pets, very gentle and loving. Most people who think that since they are racing dogs they must be hyper would be surprised at how gentle they are. They are also very fast, being able to attain a speed of 45 mph in only three steps. The greyhound is a magnificent dog.
Peoria Greyhound Adoption Inc. can be reached at P.O. Box 1253, Peoria, IL 61654; by calling (309) 688-0021; by e-mail to peoriagreyhound@hotmail.com; or on the Web at www.greyhound-adoption.org.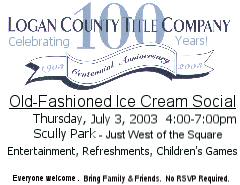 Marilyn Wheat, who walked with her dog Buddy in the parade, also can tell you how to help dogs that are in need. She has had her dog for two years. She found Buddy while she was out walking. He had been hit by a car and had a broken leg, broken pelvis and other severe injuries.
Wheat took Buddy to the veterinarian for treatment. She then adopted him. She says that she is the lucky one because Buddy has became her best friend. Wheat said that Buddy is hesitant around people, but he is a good dog. He sleeps at the foot of her bed at night.
As noon drew near and the contests, tricks and awards were coming to a close, the Lincoln police canine squad gave a demonstration with one of their dogs. The police dog sniffed out and found some illegal marijuana and demonstrated his strength when pursuing a suspect. Cindy McLaughlin of Main Street Lincoln volunteered to play the role of a suspect that the dog would bite. She was wearing a protective arm sling and was not harmed. The demonstration did show what would happen to someone when caught by a police dog.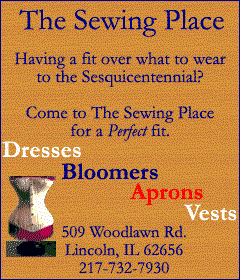 At the close of Dog Daze, McLaughlin thanked everyone who participated in the event and the Dog Daze sponsors: Best Friends Animal Hospital, Lincoln Animal Hospital and Big R. McLaughlin said how much she loves Dog Daze and dogs. She said that she hoped everyone had a good time. With the reaction of the crowd it seems that they did and that Dog Daze will become an annual event in Lincoln.
[Don Todd; pictures by Bob Frank]