Happy 150th birthday, Lincoln!

Send a link to a friend
[AUG. 27, 2003] "If you had been sitting here 150 years ago, you would not be sitting on the pavement you are sitting on now. You'd be sitting in a cow pasture with railroad tracks running through it," Lincoln historian Paul Beaver told the large crowd of school children.
State and city dignitaries and re-enactors gathered in front of a large crowd composed of mostly school children beside the railroad tracks at the Lincoln Depot at 10 a.m. The event was scheduled to be in the same place and at the same time as where and when the little town was christened by Abraham Lincoln.
Special guests from the state of Illinois included Treasurer Judy Baar Topinka, U.S. Rep. Ray LaHood and state Sen. Larry Bomke. They all kept their comments brief due to the heat.
Lincoln Mayor Beth Davis expressed appreciation to all our guests and praised the "wonderful citizens of Lincoln" for working together and taking pride in our city. After saying she is proud to be serving as mayor during this, Lincoln's 150th year, she said that her heart is warmed thinking that Abraham Lincoln would be pleased that his namesake city is still prospering.
Four Lincoln impersonators were on hand to dress up the event. Representing the city's choice for young A. Lincoln is Joe Woodard from Varna. Also looking every bit the part are Jim Ruben from West Virginia, Max Daniels from Wheaton and Jim Sayer.
[to top of second column in this article]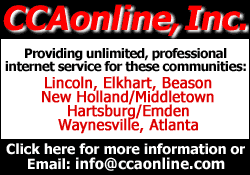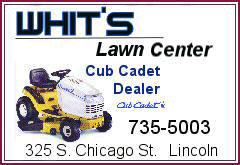 Topinka, who currently heads the Republican Party, just as Abraham Lincoln did, said, "If Abraham Lincoln was alive today, it would probably knock his socks off to see a woman heading the party." She also noted that it is a woman, Mayor Davis, who is leading the city today.
She credited Lincoln as the most influential president other than our first, George Washington, as probably having the most impact on our being the country that we are today. She said she thinks that most Americans probably take our country as it is for granted. It happens to be as it is today "because a man had the backbone to make (hard) decisions," she said.
Students from Carroll Catholic School, led by Ruth Freesmeier, performed a musical tribute that they wrote. Jason Yarcho was credited for assistance with the compilation.
After that was a re-enactment portraying Abraham Lincoln and dignitaries from that time period christening the city. Lincoln christened the city with juice he squeezed from a watermelon.
There will be an encore performance at 7 this evening (Wednesday, Aug. 27).