Storyteller brings Abraham Lincoln
to life

Send a link to a friend
[AUG. 29, 2003] A crowd of about 70, mostly families with school-aged children, sat mesmerized while storyteller Brian Fox Ellis spun tales about the life of Abraham Lincoln. As a professional storyteller Ellis gathers his information from historical documents, books and people and brings it to life in an entertaining fashion. Thursday evening was the first presentation of the material he has prepared especially for our sesquicentennial.
A wide variety of expressions registered on the faces of young and old alike as they sat in lawn chairs and on blankets in back of the Postville Courthouse for the hour-long talk. Young children mimicked his demonstrative motions. More mature listeners appeared to be listening intensely. No one seemed to fidget as Ellis took everyone on the journey through Lincoln's life.
Ellis is already a popular personality with grade school crowd in Lincoln. He has been coming to Lincoln schools the last couple of springs as a resident artist, entertaining and teaching in classrooms, at assemblies and for family nights at school socials.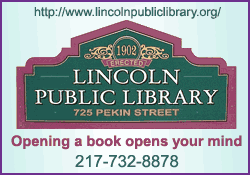 Ellis wove snippets and tales from the times and the life of Abraham Lincoln. His often humorous and animated presentation relayed understanding to the youngest as much as to the oldest listener about how this man became one of our greatest presidents.
Gesturing at Postville Courthouse and pointing out that Abraham Lincoln actually practiced law here, Ellis said, "People travel all over the world looking for Lincoln. And you live right here in his back yard."
Ellis takes his audience on a ride that begins with Lincoln's boyhood and a near escape from drowning and ends with the thousands that lined the railroad tracks in his honor as his funeral train passed.
[to top of second column in this article]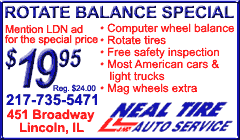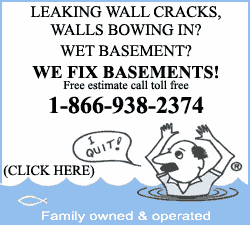 A side story of a slave and others that risked their lives freeing slaves through the Underground Railroad from Tennessee across the Ohio River and passing through Lincoln, Ill., introduced Lincoln's most noted mark in U.S. history, freeing slaves.
Because he believed that one man should not own another, Lincoln strategically spent months preparing the "Emancipation Proclamation" when he got to Washington.
Guests are transported by Ellis into a world of values and come away with a pocketful of treasures. He artfully delivers witticisms drawn from Lincoln's life, ranging from marriage to politics, humorous antidotes and, most of all, a sense of conviction that there is right and there is wrong. Lincoln made his mark not only making right choices for himself but by challenging every person in our country to do so as well.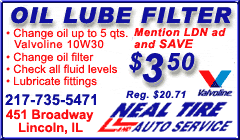 Ellis closes with a challenge to all, "What will we be remembered for 150 years from now?"
Brian Fox Ellis will be delivering his all-new compilation at Scully Park again this evening (Friday, Aug. 29) at 6 and 7.
You can read more about this talented storyteller, educator and historian at http://www.foxtalesint.com/.