Railers dominate in opener
I am so proud of the Lincoln Railer football team and the coaching squad that I could almost hug 'em! Following their 33-14 victory over Olympia Friday night, you could not wipe a smile off any of our players' faces. And why would you want to?
When coach John Oaks came to Lincoln he cautioned us that rebuilding would be a huge undertaking that would take a lot of time. I think many were skeptical. I'm so pleased for him, his staff and their players. They have worked so hard for this. Will they win the CS8 and go to the playoffs? I don't know. But they did win their opener and find themselves sitting at 1-0.
What was really cool about the whole experience was watching the looks on the boys' faces for several days leading up to their game with Olympia. They were determined and expected to win!
How 'bout the job turned in by both lines? I know that many others will get lots of credit, but controlling those lines of scrimmage may make Lincoln a threat in a lot more games this season! We're not going to mention any names this week… It was a team win and we want them to bask in some glory as a whole. We also want them to make every preparation to win in week two! The Railers are easily our team of the week!
Nice going, Coach Oaks and Railers. We're looking for more wins and a productive and exciting season!
Taylor was right/wrong?
Once again LDN writer and CITV commentator Greg Taylor was correct in predicting the successes and failures of the Cards and Cubs this weekend. He rightly predicted that the Cubs would struggle with the Brewers and that the Cards would solve the Great American Ballpark riddle. This is why we hire the best and why money is no object when doing so. I just hope the bookmakers don't start calling!
I don't understand why St. Louis has had so much trouble with Cincy, but I'm glad they finally got off the snied! What a performance by Sterling Hitchcock! And does Albert Pujols even surprise you anymore? And for those who think Barry Bonds is an easy runaway winner for the MVP award, I'd like you to tell us where the Birds would be if not for Pujols. He is every bit as valuable as Bonds and maybe then some. San Francisco has a little bit better team around Barry; take it from someone who roots for the Giants! At the least they should be co-MVPs!
As for the Cubs and their Milwaukee troubles, it's time to stop taking them lightly! It's also time to stop making base-running blunders in games that are decided by one or two runs!
That kind of stuff drives me crazy. When I managed (actually on the collegiate level I coached, not managed), I let the players conduct their own kangaroo court. They fined players for bonehead plays like poor base running. Then I would look over their fines and make adjustments to the lineups. They liked the fairness, and it helped me and the coaching staff stay objective.
At any rate, these Central Division and wild card races are as zany as any I can ever remember. Any one of the six teams could run away with it, or it could go down to the final day of the season! And the wild cards might even have to have a playoff. MLB wanted parity, and I think they have reached it at least on some level.
And speaking of figuring things out… It appears as if the White Sox finally discovered how to beat Detroit. There was an uprising about Manual's pitching decisions this week, but like coach Randy Kirk has always said, "We have to assume that the manager and the GM both no more about it than any of us fans do." Touche, Coach, and good luck down in Corydon, Ind.!
Illini's opener NOT Railer good
Greg was wrong about the Illini… He told me he had a good feeling, and I let it go at that. He and the boyz tell me that I missed a heartbreaker Saturday at the dome in St. Louis, as the Illini came up short 22-15.
I stayed behind for the parade, and it sounds like we had more fun. I'll let Greg and the others bring you up to speed on the game, and I'll check in with you next week.
[to top of second column in this article]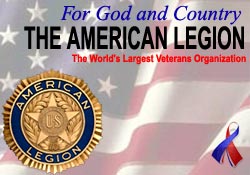 Redbirds not pretty in opening win…
But ISU did dust off Drake 27-13 in Normal on Thursday night. A nice crowd, including the LDN, watched the Redbirds overmatch the Bulldogs behind some great running. A great halftime show by the band coupled with one of the most inspiring fireworks shows that you'll find anywhere may have even overshadowed the game! If you want another good fun-filled family trip, we recommend a trip to an ISU football game. Our family and friends love 'em!
We'll have more on the Redbirds and the Illini next week since they meet each other Saturday in Chambana!
Paid football
According to NFL sources, the St. Louis Rams have signed Lincoln's Andy King, and he is on the roster as a backup lineman. News out of Detroit is that Lincoln's Tony Semple has not been signed. The source did not indicate whether he would sign a lesser contract and stay with the Lions or if he would try to hook on with someone else. We'll keep you posted on any developments.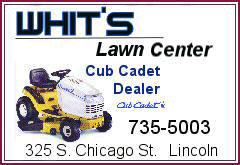 "FANdamonium" is just one week away
Since we know that many gear their calendars around "FANdamonium," it seems only fitting to warn you that Greg and I will be back starting this next Monday night, Sept. 8, from 6 to 7 p.m.! Give us a call at 735-3306 with your question or comment. We are really looking forward to another exciting year of sports talk and happenings!
Farewell, Preston Carnahan
That's right. We said so long to yet another former Railer great as Preston Carnahan flew off to Seattle this past weekend on his way to catch his new assignment on his new boat sailing Alaska's Inside Passage.
IF any LDN reader would like to fund this LDN reporter's trip to get an inside look at that way of life, call the editor and let us know of your desires.
Seriously, we are really proud of Preston, as we are of all our students who have matriculated here in Logan County and are now in all parts of the world representing us. I think we take a few shots because sports brings our friends like Brian Cook and others into the limelight.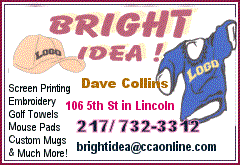 I don't know how the rest of the LDN staff feels, but as for me, I'm just as proud of the kids who can't even spell sports! I'm proud of the ones who are academic successes. I'm proud of the ones who can sing and dance. I'm even proud of the ones who think they can't do anything and struggle with their self-esteem and their self-worth. And, yes, I feel that kids from all walks off life should get as much press and as much coverage as any sports superstar, but I don't make the rules. However, if you agree with me, maybe together we can either start or continue to encourage all Logan County students to just make their lives count! I had some good people encourage me throughout my whole life; maybe you have too. Let's all work together to let our area kids know that they are special to us now and that they always will be!
Preston just reminded me that I wanted to make that statement here this week. He was never 6-foot-10. He never did spectacular dunks or audition for any of the fashionable street ball teams. He was not a flashy or a selfish player. But he has the heart of a champion! The Railers would have NEVER gone to state without him, period! And the characteristics that made him a great Railer athlete are making him an even better man, officer and a gentleman!
And, yes, I know that there are other Logan County kids making good all over the place. Why don't you write us and tell us about them? Include some photos if you've got 'em. We'll create an inspiring scrapbook through the auspices of the LDN that will encourage all kids who come after them that there is a right way to do things and that our community stands on guard to help you succeed and to share in your proudest moments. We will also be there when you fail, to help you pull yourself back up by your shoelaces! If the sesquicentennial can teach us anything, it is that our youth are our legacy!
Have a great week, everybody!