Volunteer Historian Contest
Several Logan County sports players accomplished higher levels in their pertinent fields past high school and college play. The "Information Station" -- the new chamber of commerce, economic development and tourism headquarters at 1555 Fifth St. -- is asking for the "loan" of items that can be displayed in the "Logan County Sports Hall of Fame" area in the main lobby. We are not asking for donations, simply loaned items that will be displayed with reference to the donator(s) and can be rotated periodically for visitor interest. Also, if you wish to donate items from these sports legends for our "Celebrity Auction," we would appreciate that, too! Let's show off our great sports legends for everyone to appreciate!
Contest deadline: Receipt by 5 p.m. March 1
Tourist Find Contest
There is only one place from Chicago to Oklahoma on Route 66 that is part of the original 10-foot single lane of Route 66 -- and it's here in Logan County! It is located on private properties, so be sure to let the owner(s) know you want to see the "Route 66 one-lane road." Take your picture along any part of this one-lane original Route 66 corridor and send it in to our new location -- 1555 Fifth St., Lincoln.
Contest deadline: Receipt by 5 p.m. March 1
[to top of second column in this article]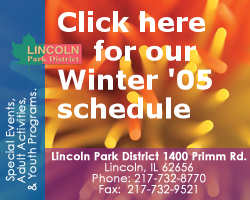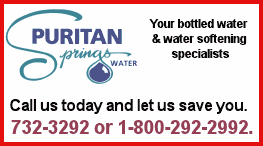 Contest rules
All entries must be submitted to the Abraham Lincoln Tourism Bureau of Logan County, 1555 Fifth St., Lincoln, IL 62656. All submissions must be received in the main office by the contest deadline. Any professional historian or any person having received any payment or compensation in connection with collecting or receiving historical documentation or evaluation, or any person or family member associated with the local tourism bureau or the Logan County Board is not eligible.
Information on the monthly contests is on CITV5 "Around The Town" and "WNL," www.lincolndailynews.com, WLCN "A.M. Lincoln," and in The Courier and Pantagraph.
Featured event coming soon
The "Information Station" is here to help you -- the business, the resident and the worker in Logan County! We need your help in contributions -- whether monetary, display items or time! With a central information location, everyone benefits!
The move to the new location is right around the corner! Open house information is coming soon!
For the latest updated information on the happenings in Logan County, check www.tourlogancounty.com.
[News release from the Abraham Lincoln Tourism Bureau of Logan County]