"Meeting of the Waters" begins with the reflection of reporter Porter Stockman on an event that rocked the nation. Porter is a white reporter for the Philadelphia Record who is sent to cover the days of rioting that occurred in south central Los Angeles as a result of the controversial Rodney King verdict. Porter, no stranger to conflict, hires a free-lance photographer and sets out for the chaotic streets.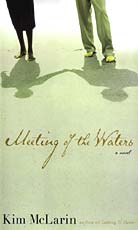 The streets are full of angry mobs of African-Americans, and the police seem to be losing ground. With pen in hand, Porter integrates himself into the angry mob and gets caught up in their tales of injustice. When a young African-American spits in the face of a white female police officer, the officers as well as the mob erupt, and Porter finds himself in a time bomb ready to explode.
He wisely decides to leave the situation before things worsen, and he finds his photographer has already left the scene. The police have moved farther up the street, and Porter realizes a bit too late that he is the only white face in a tornado of angry black faces. In an effort to retreat, Porter is confronted by an angry teen, and when he refuses to turn and run, the teen and his friends surround Porter and begin to beat him.
As it dawns on Porter that he is going to die, he is rescued by one of the most beautiful black women he has ever seen. She distracts the youth, takes him to a place of safety and disappears from his life.
During the months following the incident, Porter finds himself obsessing about this woman and wondering if he'll ever be able to discover who she is and thank her. He is therefore surprised one day when he not only sees her again in his office in Philadelphia, but finds that she has been hired by the "Recorder" as their newest reporter.
Lenora Page is an African-American journalist who has just accepted a position at the Philadelphia Post. She is surprised to discover that the man she helped during the riots is a fellow employee, and she is even more shocked to eventually discover that he appears to be extremely fascinated by and attracted to her. Lenora has a natural distrust of people of another race, and we wonder, can she ever put this aside and give love a chance.
Kim McLarin is a writer and former journalist for the New York Times, Philadelphia Inquirer and the Associated Press. The author of the highly acclaimed novel "Taming it Down," she has published her short fiction in "Obsidian II: Black Literature in Review."
She lives near Boston, Mass., with her husband and their family.
[Bobbi Reddix, Lincoln Public Library District]