---
Christmas, Christmas, Christmas
The season is here and all that we hold dear
is your love Lord God, your presence and
yes your Son that guides this day to cheer.
You alone are Christmas and you alone are near.
Even when the world says no, you Lord God have
the mightiest hand in all of the land.
As others seek to take the Christ out of Christmas,
my heart knows the truth and my prayers turn to you
for them to see you, love you and long for the Christ in Christmas.
The season is filled with such color and adornment.
The trees of spruce stamp you are God.
The trees of fir confirm you are Lord.
The trees of pine let us know we were firmly on your mind.
As the trees are adorned with lights and color of the season
they cannot shine without you Lord God behind each one
of bright bringing them into your Sonís light.
You alone are Christmas.
You alone are Christ.
It is after all the Christ in Christmas that delivers the day,
brings life to the world and breath to this nation.
That is the only reason we can say it is truly Christmas Day
is to keep you at the front of Christmas and have your Son as Christ.
All others who seek to make you second or take you out, crucify again
without even a shout.
It is Christmas and you Lord God ring the bell with fullness
and joy as we stand firm that Christ is Christmas in the Father,
the Son and the Holy Ghost.
The three that set this time apart will be for the whole nation to see that
Christmas, Christmas, Christmas is truly the God-given Trinity!!!
[Susan Lynn, Signal Mountain, Tenn.]
---
Good Shepherd
Lutheran Church service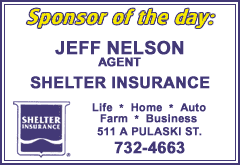 [DEC. 21, 2002]
The children's Christmas program and candlelight service at Good Shepherd Lutheran Church, 1140 N. State St. in Lincoln, will be at 7 p.m. on Dec. 24.
---
Lincoln Christian Church
to offer Alpha Course
[DEC. 7, 2002] Lincoln Christian Church will introduce the Alpha Course on Tuesday, Jan. 14, at the church's Fellowship Center, at the corner of Pekin and Hamilton streets. This 10-week practical introduction to the Christian faith offers answers to some key questions.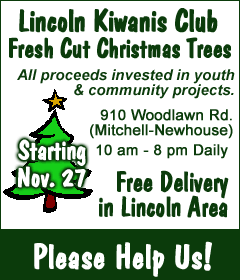 Each weekly session begins with an informal dinner followed by a large-group learning time and ends with small-group discussion. Attending the Jan. 14 introductory evening does not obligate individuals to continue the course.
Alpha began in London, England, and is now offered in thousands of communities around the world. Join the millions who have found answers about life and God. To learn more about the course, call 732-7618 or visit the church's website, lincolnchristianchurch.org.