"Inventories at the beginning of this year were large enough to compensate for the declines in production in 2002," said Darrel Good. "Inventories will not be large enough to buffer the impact of another small crop in 2003. Once the market absorbs the coming USDA reports and South American production prospects become clearer, attention will turn toward next year's crop."
Good's comments came as he reviewed recent actions in the corn and soybean markets. Both have been responding to the rate of exports and progress of Southern Hemisphere crops. Upcoming USDA reports will provide some added perspective on both the supply and demand side of the price equation.
The Dec. 30 Quarterly Hogs and Pigs report will provide an update on prospective feed demand for corn and soybean meal through the remainder of the 2002-03 crop year.
"Declining numbers of hogs and cattle reported to date suggest some softening of feed demand this year," said Good. "The USDA has projected the largest year-over-year decline in pork production -- 3 percent -- for the second quarter of 2003. Beef production is expected to be down 7 percent in the third quarter and 11 percent in the fourth quarter of 2003. Poultry production in 2003 is expected to be only 1 percent larger than in 2002."
The Dec. 1 Grain Stocks report, to be released on Jan. 10, will provide an estimate of feed and residual use of corn for the first quarter (September-November) of the 2002-03 crop year.
"It is expected that report will show only a modest reduction in feed and residual use compared to the same quarter last year," said Good. "Year-over-year reductions should be larger during the last nine months of the crop year. Corn supplies are large enough that a large decline in use is not required this year."
In addition to the Grain Stocks report, the USDA will release the final U.S. corn and soybean production estimate for 2002. In each of the past four years, the January corn production estimate was smaller than the November projection. In the previous 17 years, the January estimate was below the November projection only three times. Except for 1988, the difference between the January and November figures over the last 20 years has ranged from zero to 159 million bushels.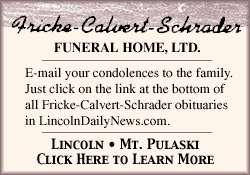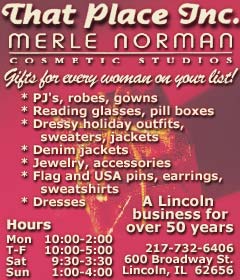 "The difference was 250 million in 1988," said Good. "The difference has not exceeded 100 bushels since 1993. A relatively small difference is expected this year. With a smaller estimate of harvested acreage, the January figure may be marginally below the November 2002 projection."
The January soybean production estimate was below the November projection in each of the past seven years, in eight of the past nine years and in 13 of the past 20 years. The difference, whether up or down, ranged from two million bushels to 60 million bushels. The difference has not exceeded 35 million bushels since 1987. The late harvest in parts of the southern United States is expected to result in a marginally smaller estimate in January 2003.
"The USDA will also release a Winter Wheat Seedings report on Jan. 10," said Good. "Typically, this report has minimal implications for corn and soybeans. This year, however, the higher wheat prices may have resulted in a sharp increase in winter wheat seedings. If so, there will be fewer acres available for spring-planted crops.
"The estimate of the total area seeded to winter wheat, as well as the geographic distribution of seedings, may provide an early look at potential changes in oilseed and feed grain acreage in 2003. At this earlier stage, there is still some expectation that the increase in corn acreage and decline in soybean acreage in 2002 will be repeated in 2003. The magnitude of the switch in acreage will continue to be debated."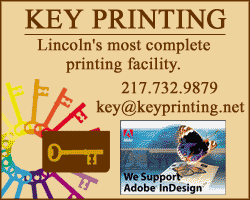 Good added that, for now, corn and soybean prices appear to have established a trading range that may persist until some new fundamental information appears. March corn futures are finding support near $2.35 and should have excellent support at $2.30 for now.
"The $2.50 area is the recent high and may be difficult to exceed without a few surprises in upcoming reports," said Good. "January soybean futures have apparently found a trading range between $5.55 and $5.80. However, the contract high is at only $5.93.
"With a strong export pace and lingering concerns about the South American crop, soybean prices may have more potential to exceed the recent trading range than do corn prices."
[U of I news release]
"The farmdoc program encompasses a broad spectrum of expertise and research-based education materials, involving agricultural finance, marketing and outlook, farm management, agricultural policy, and law and taxation," said Scott Irwin, a professor of agricultural marketing and price analysis who is the project's team leader. Other department faculty providing leadership are Paul Ellinger, Darrel Good, Dale Lattz, Robert Hauser, Gary Schnitkey, Bruce Sherrick, Donald Uchtmann and former U of I professor Sarahelen Thompson. Joao Martines is the project manager. A team of U of I Extension educators located throughout the state also cooperate.
The address for the farmdoc website is http://www.farmdoc.uiuc.edu/.
Irwin noted that farmdoc has had a measurable impact on decision-making and economic behavior in its target audience. Usage has risen from an initial level of about 10,000 hits per month to nearly 100,000. There have been nearly 60,000 downloads of research reports on the performance of agricultural market advisory services, nearly 4,000 downloads of Farm Analysis Solution Tools spreadsheets on the site and distribution of over 2,000 CDs of Farm Analysis Solution Tools.
A number of farm magazines have also given the site a high rating.
"Farmdoc has succeeded in meeting one of the most difficult challenges facing contemporary extension and outreach programs," said Irwin. "A new model for extension and outreach activities has been developed. This is important because agricultural economics departments throughout the country are all attempting to serve an increasingly diverse and wide audience with fewer and fewer extension personnel."
[U of I news release]
"Because of the quality of U.S. food production and the governmental standards that are in place, most food safety hazards today are fairly modest in scope and severity," said Laurian J. Unnevehr.
However, she adds, a recent U.S. Court of Appeals decision upholding a Texas court's decision blocking the USDA from closing a beef processing plant that failed a series of tests for control of salmonella raises questions about standards.
Unnevehr is the author of "Food Safety: Setting and Enforcing Standards" in the latest edition of the Illinois Rural Policy Digest, which can be accessed online at http://www.farmdoc.uiuc.edu/policy/
digest/digest.html.
Today, food safety is receiving a great deal of attention from the public for several reasons, she noted.
"Science can trace many food-borne illnesses to specific pathogens found in food. As consumers live longer and become more affluent, they demand higher levels of quality and safety," she explained. "Changes in production practices and new sources of food, such as imports, introduce new risks into the food system. And more foods are purchased away from home or in prepared form, giving consumers less control."
The food industry has responded to this demand with many innovations to improve safety. But simply letting the market determine food safety might not protect all consumers, especially those susceptible to food-borne illness, such as the elderly and small children. "Unregulated economic markets could fail to provide a satisfactory level of safety from the consumer's standpoint," she said.
Twelve government agencies have authority over different aspects of food safety in the United States, with the Food and Drug Administration and the USDA carrying the brunt of the burden. Primary responsibility for food safety in meat and poultry rests with the USDA; the FDA has primary responsibility for all other foods.
A risk assessment approach to the design of food safety regulation -- looking at where hazards enter food during production and where it is easiest to control them -- has been advocated by the National Academy of Sciences and used by USDA and FDA in their most recent regulations. Another new development is the mandated use of Hazard Analysis Critical Control Point systems of safety management.
"HACCP requires that processors identify critical control points and develop procedures for monitoring controls and addressing any failures that occur," Unnevehr said. "This reflects a growing recognition that it is important to prevent and control hazards before they reach the consumer."
Since the early years of the 20th century, USDA has relied on meat carcass inspection at the point of slaughter. While this system removed diseased animals from the food supply and ensured sanitation procedures, it was not designed to address microbial pathogens, such as E. coli and salmonella.
"Both of these can live in the gastrointestinal tract of animals without harming them and may enter meat during slaughter and processing," she said.
It was an attempt to address this gap that led to the Texas suit against USDA. The standards adopted permitted no more than 7.5 percent of a plant's ground beef to contain salmonella, and more than 90 percent of federally inspected plants met that standard. However, after the Texas plant in question failed salmonella tests three times over eight months, USDA moved to shut it down.
"The Texas beef plant appealed, contending that because salmonella is not an adulterant and because it is destroyed during normal cooking, its presence is not a public safety issue," said Unnevehr. "While the beef processor in question eventually went out of business, its court victory left confusion about the role of standards in the future. Now, salmonella tests must be used in conjunction with other information to shut down a plant and can no longer be the sole basis for that decision.
"This leaves several issues in how food safety is regulated not fully resolved. These include USDA's legal authority under current meat inspection laws as well as the scientific validity of sampling and testing procedures."
One question that might be asked is if it makes economic sense to set a microbial pathogen standard for meat and poultry plants, she added.
While the appeals court decision said that historically responsibility for reducing food pathogens rested with the final food preparer, Unnevehr believes that changing habits and products have complicated that assumption.
"Food preparation methods have changed with the advent of more fresh foods and use of new technologies such as microwave ovens, and food preparation has increasingly moved outside the home," she said. "Clearly, consumer protection in this changing food system means shifting more responsibility to the food industry for food safety."
She noted that benefits from reducing food-borne illnesses are potentially very large, ranging from $2 billion to $172 billion, reflecting the varying estimates of the extent of food-borne illness and different methods for valuing life and health.
The question becomes, in her view, developing standards that are most effective and least burdensome to industry for achieving improved food safety. Standards can be based on outcomes, such as the 7.5 percent salmonella standard, or on processes used in production, such as requiring specific sanitation procedures.
"In practice, it is difficult and expensive to test food products, so food safety standards are often a mix of product outcome and process standards," she said. "It would enhance the long-run efficiency of the meat industry if scientists can agree on appropriate performance standards for microbial pathogens in meat. This would encourage firms to find ways to reduce the incidence of these pathogens in the food supply.
"All factors point to the desirability of setting clear standards for microbial pathogens. Both consumers and ultimately industry would be better served by standards that are well understood. This may require changes in the meat and poultry inspection laws, as well as further research to determine the best sampling and testing methods."
[U of I news release]
The five members of the ag issues team, Matthew Wrage, Nick Alberts, Brittney Kavanaugh, Kyle Hoerbert and Kory Leesman, presented pros and cons on the topic of "Upgrading the Locks and Dams on the Illinois and Mississippi Rivers." The participants role-played the major constituents involved in this issue. The team also met recently with U.S. Rep. Ray LaHood concerning the issue.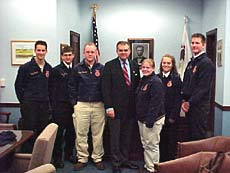 [Photos provided by Hartem FFA]
[Left to right: Kory Leesman, Nick Alberts, Kyle Hoerbert, Rep. LaHood, Brittney Kavanaugh, Alyssa Moehring and Matthew Wrage]
As state winners, the team will now represent the Illinois FFA Association at the 2003 National FFA Convention. This is the third state-winning team competing in the Ag Issues Career Development Event for the Hartsburg-Emden FFA chapter.
[News release]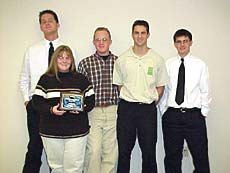 [Members of the Hartsburg-Emden FFA ag issues team, which won in state competition: (left to right) Matthew Wrage, Brittney Kavanaugh, Kyle Hoerbert, Kory Leesman and Nick Alberts]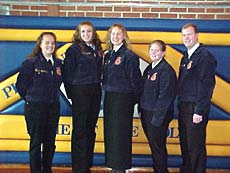 [Members of the Hartsburg-Emden FFA state champion team in food science and technology are Alyssa Moehring, Krista Ubbenga, Natalie Coers and Brittney Kavanaugh with Drew Dediraemaker, state FFA president.]