In spite of laying off six employees, two each in the fire, police and street departments, the city will still be looking at some red ink for the upcoming fiscal year, which begins May 1.
Figures presented by Prather Monday night showed anticipated revenues of $3,902,068 for the general fund and expense requests of $4,086,245. That leaves a deficit of $184,177, the figure the council will be voting on at an adjourned regular meeting next Tuesday.
However, according to insurance chairman Glenn Shelton, the city hopes to reduce that figure by at least $100,000. That is the amount the city can save if all four of the unions representing city employees agree to a change in their health insurance plan.
The unions, which represent firefighters, police, street workers and clerical workers, have 60 days to decide to accept the new plan, Shelton said.
The new plan will include both an HMO and a PPO option. Costs to employees for prescription drugs may be higher than the current $5, but the new plan will pay for complete physical examinations, which was not included in the old plan. Shelton said he believed all four unions would adopt the new insurance program.
This coming year, the city will save about $180,000 because of the layoffs of the six employees. Next year the savings will rise to about $240,000, because the city will not be paying unemployment compensation for the laid-off workers, Prather said.
"We pored over the budget. We cut back to the bare bones." He said even though it helped to reduce the deficit, he hated to lay off the six employees.
"If I could figure out a way to put them back in, I'd love to do it," he said.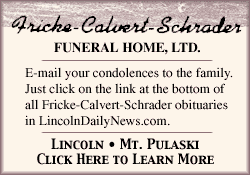 Mayor Beth Davis, who has been asking for more money to fund the upcoming sesquicentennial celebration, also found ways to cut her office budget, paring away another $4,500 to bring it down to $29,549.
She said the budget needs money for postage and supplies to promote the city's 150th birthday this August, but that she will ask for less money next year. Any money raised by the sesquicentennial will go back into the city's general fund, she said.
To shore up the budget, the council also voted to transfer the entire $50,000 in the fund for construction of a west-side fire station and $80,000 in the equipment rentals fund to the general fund. Alderman Benny Huskins, a long-time supporter of a west-side fire station, voted against both proposals.
The council will see final figures and vote on the budget at an adjourned regular meeting April 29, before the work session. They will also vote to name Deputy City Clerk Melanie Riggs to fill the unexpired term of City Clerk Juanita Josserand, who is resigning as of April 30.
In other business, the council rejected a request from Jason Steffens of Capone's and Brad Letterle of Chameleon's to block off portions of Sangamon Street for a festival from 3 p.m. to midnight on June 7. The festival plan called for two bands, beer trucks and snow fences to contain the area.
Shelton said he was concerned about blocking off a public street and also was not in favor of this kind of activity. Huskins said he was concerned about setting a precedent. "If we do this for one, we open up a can of worms and will have to do it for all others."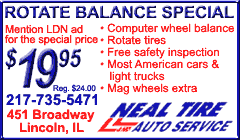 Alderman Dave Armbrust said he could not support the festival because it was not tied up with any city activity, as the sesquicentennial will be.
Prather said he had heard from several people living on the block that they had not been contacted about the proposed street blocking. He also noted that it would set a precedent.
Steffens said he recognized that this was a "first-time private entity" asking to block a street. The Steffens family has been trying to establish Sangamon Street as a desirable place to be, he said, and also the festival would provide the city with additional sales tax revenue.
"We are trying to better our business. The better we do, the better you do. We are trying to bring people to Sangamon Street."
Mayor Davis, who supported the plan, said she thought the council should try and think "a little bit differently sometimes" and she would like to see more activities downtown. "Other communities are doing this and thriving," she said.
Some aldermen thought such street activities might be all right but needed more study.
"It might not be a bad thing in the future to do something like this," Alderman Pat Madigan said, "but we don't have security guidelines in place and we don't know how to prevent underage drinking. I don't think we should turn the downtown into one big spring and summer party. That affects the security of downtown businesses." However, he said he would like for the council to discuss a plan for street activity in the future.
Fuhrer said he would like to see such festivities in areas other than public streets. "Other towns do this in parking lots or in private areas," he said. "So many things aren't worked out for safety." He also noted anybody could petition for a street activity, "maybe block off a street and have a furniture sale."
"A lot more thought needs to go into it."
Only Alderman Bill Melton favored the proposal. He said each petition could be looked at on its own merits.
The council also denied a petition to replace a brick sidewalk at 316 N. Sherman St. at the city's expense. Glenn Shelton, who represents that area, said that while the sidewalk might be in good condition for an able-bodied person, it is a hazard for those in wheelchairs. He said residents of a group home on Sherman Street might find it difficult to negotiate and have to detour into the street.
The council also approved spending $370,250 for property and casualty insurance, a 13 percent increase over last year's cost. The cost is up because of the number of claims filed. This insurance also covers workman's compensation claims. A representative of the company, Independent Risk Managers of Peoria, said a safety expert could educate workers about procedures to reduce claims.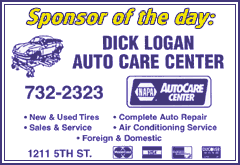 The council voted unanimously to refund the $695 building permit fee to the American Legion. The Legion had to get the permit when it started rebuilding after it was destroyed by fire because the formalities were not yet in place to put it in the enterprise zone.
Before the meeting, the council heard a presentation by Joe Pisula, vice-president of Environmental Management Corporation, the firm that manages the city's sewer plant, regarding allowing the firm to manage the city's street department as well. Don Osborne, the street superintendent, will be retiring in July.
The council took no action on the proposal.