Allen Chapel designated as
historic landmark
Send a link to a friend
[DEC. 3, 2003] The Allen Chapel AME Church located at 902 Broadway has been designated as a Lincoln Historical Landmark. At the recommendation of the Lincoln Historic Homes and Buildings Committee the Lincoln City Council passed a resolution declaring the property as such in October.
The African Methodist Episcopal Church is still active in the building it built so long ago. The church established itself and bought the property, titled as the schoolhouse property, from the city of Lincoln in 1868. The current building was constructed in 1880.
The 123-year-old building is suffering some cracking and crumbling of its plaster and other age-related pains. The church has renovation plans in the making to make it healthy again.
The Rev. Peggy Senor from Springfield ministers the flock for Sunday morning worship and Wednesday Bible study.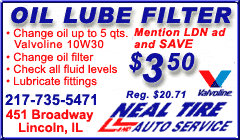 What qualifies the property as a historic site is that it meets at least three historical significance specifications. The Allen Chapel meets the following criteria:
Building or structure more than 75 years old.
Architectural significance.
Significant historical happenings: Underground Railroad site.
[to top of second column in this article]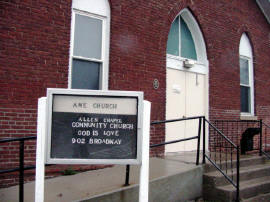 Aldermen Jonie Tibbs and Derrick Crane, who serve on the mayor's Lincoln Historic Homes and Buildings Committee, sponsored the resolution to declare the property a landmark.
The committee began meeting early in 2002 in conjunction with the city's historic tourism development and sesquicentennial preparations.
There will be a more in-depth story about the history of this rich-in-heritage Lincoln landmark in the future.