News flash
Simulated plague continues to spread …
prompting SNS distribution … threat advisory level maintained at red (severe)
[MAY 15, 2003] Top Officials 2 (TOPOFF2) began Monday morning when escalating numbers of people began showing up at hospitals with like symptoms. It was the beginning of the most comprehensive terrorism response exercise ever undertaken in the United States. Federal agencies and the American Red Cross in cooperation with participants in Washington state, Illinois, Canada and the national capital region have been involved in the five-day, full-scale demonstration of how the nation will respond in the event of an attack using weapons of mass destruction.
The congressionally mandated national weapons of mass destruction (WMD) exercise series is designed to provide training for federal, state and local responders and top officials. Emergency responders, coordinating agencies and government leaders are being given opportunity to execute a coordinated national (and international) response to WMD attacks.
The full-scale exercise began Monday, May 12, and lasts through Friday, May 16.
Logan County Local Emergency Planning Committee assistant director Terry Storer joined the response effort Wednesday afternoon and will remain involved to the exercise end on Friday. Storer received his assignment at a weekend meeting. However, not unlike a real disaster situation, it could change due to the number of personnel that are involved with actual tornado and storm damage that has been occurring throughout Illinois the last couple of weeks.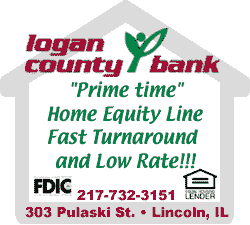 Storer's assignment is as an exercise controller working at a sub-venue with the DuPage County Health Department at a Strategic National (Pharmaceutical) Stockpile Distribution site. His responsibilities will be 24 hours a day.
Storer chuckled and said he was looking forward to learning how to juggle the responsibilities and when to get some rest. He will learn about managing his personal limits and coordinating in a long-term crisis.
He is looking forward to the experience of working with the federal government.
Storer also said, "There will be people [working at this] from everywhere." There will be assistance from outside the United States. The international experience will provide a different social aspect for him and the other coordinators.
TOPOFF2 is sponsored by the U.S. Department of Homeland Security and U.S. Department of State.
[Press release / Jan Youngquist]