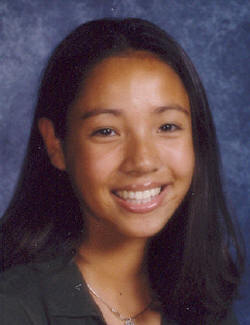 Tribute to a gem, Sonya Twist
A beautiful life
By Jim Youngquist

Send a link to a friend
[APRIL 12, 2005] Certain things stand out in my memory, such as a morning at work some 11 or 12 years ago. I was sitting at my desk sipping my coffee, attempting to wake up and pay attention to the things that were tugging on me on that day. As I was sitting there in my sleepy state, I caught a glimpse of movement out of the corner of my eye, and then right before my eyes, a very tiny person popped up in front of me and hopped up on my desk. She sat down so close to me on the edge of my desk that we were almost nose to nose. She had a very bright little expression, twinkling eyes and a huge smile. She startled me when she said, "Hi."
This was my first vision of Sonya Twist. She was all of 3 or 4 years old. She was a beautiful child, apparently unafraid of anything and friendly beyond description. We sat there and had a very lively discussion for about 10 minutes, after which she said 'bye, hopped down and went back to her father's office in the other part of the building.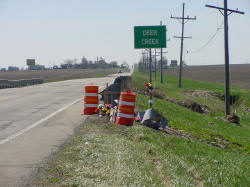 Crucifixes mark the site where Route 10 crosses Deer Creek. [click on photo for larger image]
My first impression was that here was a child who was going to accomplish great things. There was so much personality and energy in that little package.
Over the years Sonya grew up to be a wonderful young lady, and with the guidance and support of her father, she did indeed go on to accomplish much. Sonya proved at an early age to be a prodigy at music, first taking on the piano and then later the French horn. I heard that she was involved with the Champaign-Urbana Symphony and even recently auditioned for the Chicago Symphony.
She excelled at school, and whenever I bumped into her father, he bragged that she had again gotten straight A's.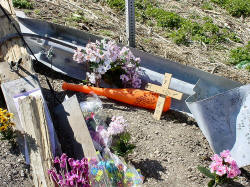 Flowers and other artifacts have been placed amidst the wreckage of the guardrail. [click on photo for larger image]
At church she was involved in every youth group activity, went on short-term missions trips and was said to have been a person who brought other people together. She was not only accomplished, she was a very positive influence.
Everyone who knew her remarked how cheerful and happy she was. Several years ago she was traumatically attacked by a dog in her neighborhood. She was bitten on the face and the neck and underwent intensive plastic surgery to restore her youthful beauty. Even this event failed to bring her down or change her cheerful disposition.
Sonya Twist was what we would call a gem, a treasure.
A week ago on Sunday my daughter called me while I was out of town and told me amidst tears that something very bad had happened. Sonya and her father had been in an accident and Sonya had been killed.
Since that time, our whole family and those around us who knew Sonya have been trying to understand this event in which this wonderful, beautiful, talented, accomplished, spiritual 16-year-old person has lost her life. It is very hard for all of us to get our minds around, and I am feeling a great loss.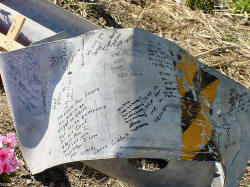 Messages of love and loss are written on the metal of the guardrail, many looking forward to seeing Sonya again in heaven. [click on photo for larger image]
The accident site has turned into a shrine. There are many wonderful messages of love written on the guardrail and on items left there. Apparently there are many others who are also feeling that loss.
God bless you, Sonya Twist. You made a difference in our lives, and we will be the poorer without you. I too look forward to seeing you again in heaven.
[Jim Youngquist, tribute photos by Butch King]
Click here to respond to the editor about this tribute.
Related articles