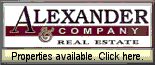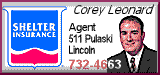 Church Directory

---
---

---
---
---
---
Contact us
---
LDN is best viewed with
IE 6 or Firefox 1.x.

---
LDN awards
Local:
Dec. 16, 2001
Local Emergency Planning Committee
Jan. 25, 2001
Logan County Healthy Communities Partnership
State:
Oct. 1, 2001
Illinois Public Health Association
posted daily OVER THE NOON HOUR (CDT)

NEW FEATURE: LDN DAILY SUDOKU. Click here!
As of 11 a.m. today Rusty's Clubhouse & Grill at 2810 Woodlawn Road in Lincoln (the former Maverick's) is open for business.

The Lincoln and Logan County business community and Mayor Beth Davis joined manager Chris Hruby and staff at the Rusty's grand opening VIP open house on Saturday. The officials were treated to dinner followed by karaoke.




Submit a classified ad online [Lowest cost for advertising in the county!]
\Community
The Sports Page


Logan County man goes out to burn field, does not return

Gov. Blagojevich's 'Less Red Tape' legislation to ease burden on local schools and teachers wins Senate committee approval
Senate Bill 2829 moves on to full Senate for consideration

Gov. Blagojevich commends House for unanimously passing tougher penalties for police impersonation, encourages Senate to follow suit
Legislation would increase jail time for police impersonation, create new offense for impersonation while carrying a deadly weapon, and broaden definition of peace officer to include local, state and federal officials

Court news

Marriages

Dissolutions

Those armed with the 'sword of the Spirit' -- en garde!

Lenten services begin at Good Shepherd

'Emerging, Irrelevant or Transformational?

Lincoln native cast in Lincoln College production of 'Brighton Beach Memoirs'

Pulaski County archaeology site, Springfield's Union Station featured in latest Historic Illinois

Children's swim lessons offered

Home Country: Sign spurs speculations