"What should I do today?" Through the holiday season there are a lot of activities going on. Make a list, plan your shopping, eat out to avoid cooking, and save gas and time by taking advantage of all the things you can find locally...
Monday
Start your Christmas shopping this week with a gift for yourself. This terrific holiday tote will come in handy for stashing away those small packages you don't want anyone to see. Get it now at STACY'S FAMILY PHARMACY!
When you're finished at Stacy's, hop across the street for lunch at Daphne's

City of Lincoln Ward 2 residents -- today is the last day for leaf pickup in your community.
Tuesday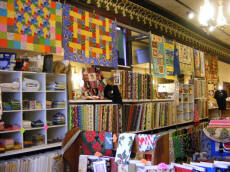 If you enjoy making handmade gifts, be sure to check out LOG CABIN QUILT SHOP for a wide variety of items to meet your sewing and quilting needs.