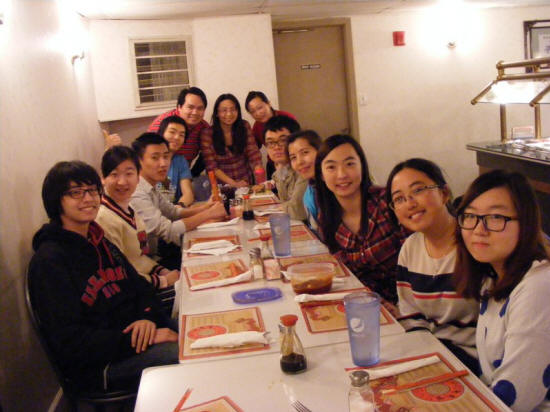 Lincoln Christian University students from the Chinese Institute were treated to a free meal at Chopsticks Chinese Restaurant on Thursday, Valentine's Day. The group was celebrating a different holiday, though, one that is near and dear to their hearts: the Chinese New Year. The Chopsticks owner, who is known to most all as just Annie, said she wanted to do this special event because these young people are a long way from home and family. The Chinese New Year is an important religious celebration in their homeland, and she wanted to bring that to them here in Lincoln.
Many of their favorite foods and traditional noodles were served for the occasion.
Mr. Lee, pictured in back on the left is in charge of the Chinese Institute at LCU. Annie is in back at the right. It was hard to figure out who was the most excited about the event, the students or Annie.
Photo by Karen Hargis (Click on image for larger version.)