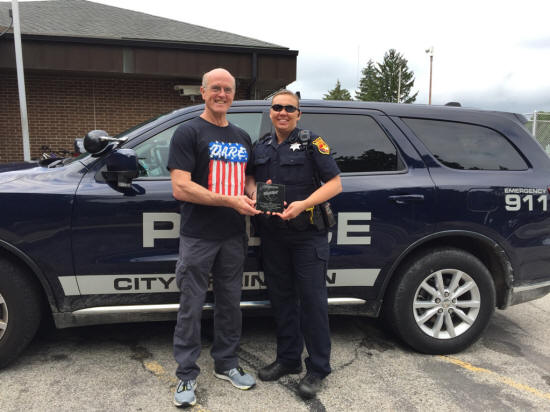 At a recent D.A.R.E. conference held in Peoria, Logan County D.A.R.E. Officer Scott Brown was recognized for 20 years of service as a D.A.R.E. officer. Brown was unable to attend the conference, so the award was accepted by Lincoln D.A.R.E. Officer Christy Fruge'. On Friday morning, Fruge' delivered the award to her Logan County counterpart.

As a Logan County deputy, Brown has been actively involved in the county program and is also a local Master of Tae Kwon Do working with youngsters of all ages, teaching them the disciplines of that art. As such, he has many opportunities to lead kids away from destructive behaviors. His service to our community's children is much appreciated by all.

Photo provided by Christy Fruge' (Click on image for larger version)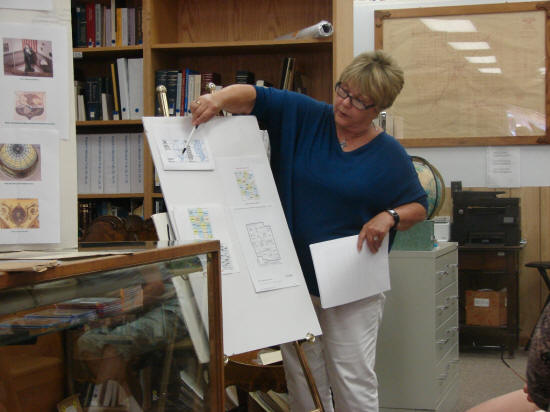 At the June meeting of the Logan County Genealogical & Historical Society, Diane Farmer gave a presentation on the history of our county and its townships. Included in her presentation were photos of various courthouses in the county, including two versions of the Logan County Courthouse. Farmer also had on hand the architectural plans for the Logan County Courthouse that stands today in the heart of Lincoln.

Photo by Curtis Fox (Click on image for larger version)