New Ace wows 'em

Send a link to a friend
[NOV. 20, 2003] The new Ace Hardware, located in the former Moose building at 521 N. Kickapoo St., was biggest party in town Wednesday evening. Attendees speculated that Ace had hit on the ideal combination that attracted the mostly male population: hardware, food and drink.
The pre-opening event may have broken a Lincoln/Logan County Chamber of Commerce mixer record too. Director Bobbi Abbott said it was the biggest turnout she has ever seen for a chamber mixer.
Large crowds coming out for the private Wednesday evening preview and the official opening at 9 a.m. Thursday seemed to really appreciate the building's transformation and product offerings. Comments such as, "Oh, this is really nice!" and the like could be heard everywhere. Abbott said, "Man, I've died and went to heaven."
The store is clean, bright and well-organized. Locating products is made easy with great lighting, wide aisles with product offerings marked overhead and organized shelves.
The store utilizes the full building. Building materials like concrete and seasonal items are stored behind the outside pull-up garage doors.
[to top of second column in this article]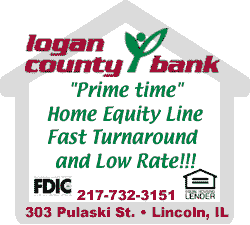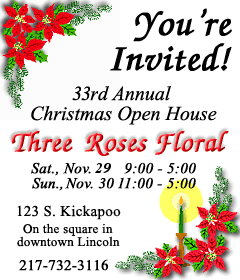 While the official kickoff party is over, lots of specials are still being dangled to lure new patrons. Four-day specials and drawings continue through the weekend. Circulars full of deals are available at the store. You'll find all kinds of bargains such as Lucky Eichner did when she bought AA and AAA batteries in packages of 16 at 99 cents.
Store hours are Monday-Friday, 7:30 a.m.-8 p.m.; Saturday, 8 a.m.-6 p.m.; and Sunday, 9 a.m.-5 p.m. The phone number is (217) 732-1458
Store manager Will Anderson and George W. Prickwinkle, president, say, "We're excited be a part of the Lincoln community, and we intend to serve it well."