"1776" portrays the struggles and debates of the Continental Congress which produced America's Declaration of Independence from Great Britain and created a democratic United States in a world of kings and kingdoms. These pivotal events are brought to life by director Jennifer MacMurdo and her talented cast and crew.
MacMurdo, a Lincoln native and graduate of SIU-Carbondale, is an LCT veteran who has acted in five productions and directed a marvelous production of "The King and I" last summer.
Her concern for historical accuracy in both events and characters was evident in an interview before dress rehearsal. She spoke passionately about the play's depiction of the "birth pangs of America."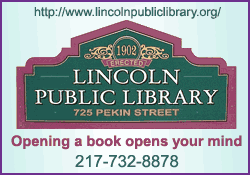 She was very mindful of current events as she researched the characters and controversies of 1776. "America has been involved in many struggles with other countries in recent years," and "many nations are testing us and our values," she noted. The events and ideas of 1776 "should be told over and over," she said.
As a history professor, this reviewer believes MacMurdo and her LCT have succeeded in superb fashion.
MacMurdo was ably assisted in producing the play by several local talents. Tim Searby directed the vocal rehearsals of the strong male voices. During their chorus numbers, the men present a rich wall of sound. Julie Kasa directs a small but very talented and precise orchestra whose tone and volume were always the perfect accompaniment. Kasa and Linda Storm accompanied rehearsals.
As with all great plays, "1776" comes alive and is made authentic through the efforts of the "unseen stars": the backstage crew and technicians, including Tony Crawford as technical director; Warren Fink, stage manager; Jerry Dellinger, lighting designer; and Tony Crawford and Amanda Perry on lights and sound. Kelly Dowling handles properties, and Betsy Buttell and Vickie Hum help with wigs and costumes. Tamara Welter assists with makeup. Friends of LCT and LCT board members spend countless hours on countless tasks and details that contribute to an excellent evening of theater.
In the summer of 1776, both temperatures and tempers in Philadelphia were boiling. Both types of heat are palpable in the LCT production.
Dan McLaughlin, a veteran teacher and director, steps across the footlights and brings to life John Adams, the fiery leader of those seeking independence from England. McLaughlin helps us understand Adams as a conflicted man struggling to conquer his innate irritability while trying to win others in the cause of independence.
McLaughlin acts with great energy and sings with great emotion, especially during the loving, long-distance duets with his wife, Abigail, who is portrayed by Kim Peterson-Quinn. She is enchanting in both countenance and voice. It is both intriguing and touching to watch McLaughlin banter with his son, Tom McLaughlin, who is a very convincing Thomas Jefferson. Jefferson, a genius torn between love for his new bride and love for America, is reluctant to be drafted to write the Declaration of Independence.
Adams' antagonist is portrayed by Dan Bailey, an LCT veteran in both acting and directing. Bailey creates a memorable portrait of John Dickinson, a landed aristocrat and snob from Pennsylvania who is committed to reconciliation with Great Britain. Bailey's speeches and manner ring with a condescending pomposity that sends shivers throughout the auditorium. When Dickinson leads his conservative allies in the song and dance of "Cool, Cool Considerate Men," Bailey's broad talents in humor, song and dance are transfixing.
If Adams and Dickinson represent the two extremes of the debate in Philadelphia, Ben Franklin is the voice of moderation. Roger Boss' portrayal of the sagacious Franklin is as gentle and wry as the influential and witty man he plays. Boss' Franklin is an excellent living picture of the historical Franklin.
Boss is one of six men in this cast who were in the LCT production of "1776" 18 years ago. The other actors in that 1985 production were Dan Bailey, Doug Raffa, Bill Gossett, Ed Dowling and Steve Martin. Three of those original cast members are reprising their roles. Gossett again plays McNair, the cranky, overworked custodian; Dowling gives a powerful bass voice in both speech and song to Edward Rutledge; and Martin brings down the house with his portrayal of the crotchety, rum-swilling Stephen Hopkins.
The actors and actresses cast for this play fit their roles perfectly. Rob Siebert is the proud, rambunctious Richard Henry Lee, whose song "The Lees of Old Virginia," is a sidesplitting showstopper. Brittney Dobson is the young, starry-eyed Martha Jefferson, whose clear, shimmering voice is delightful in her song and dance with Adams and Franklin.
Jeff Kindred brings gentle humor to the role of the frustrated congressional clerk. Andy VanDeVoort is the clear, penetrating voice of the long-suffering president of the Congress, John Hancock.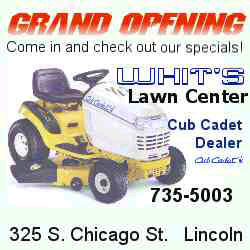 Bob Woods is effective as the reticent but brave Judge Wilson, who casts the deciding vote on independence. Chuck McCue is wonderful as the perpetually "abstaining" delegate from New York, and Randy Storm is the epitome of the 18th-century vicar, John Witherspoon.
Nathan Bottorff and Shelby Smith, both recent graduates of Lincoln College, are refined, dignified colonials. Smith's high, sparkling tenor is especially effective in the song "But Mr. Adams."
Many regions and backgrounds were represented in Philadelphia, and three actors demonstrate special skill with dialect and accents. Allen King is a towering presence as Col. McKean and uses an excellent Scottish brogue. David Helm uses a gentlemanly Southern drawl to represent Dr. Hall from Georgia. Brian Welter sounds like a native of "Nawth" Carolina.
Among the greatest strengths of LCT has been its ability to welcome and nurture new actors and young performers. Ross Dowell, Todd Brown and Don Jordan are convincing congressmen who are making their first appearances with LCT in this play. Watching Jordan's heart-wrenching portrayal of the cancer-stricken and dying patriot, Caesar Rodney, it is hard to believe he is not a stage veteran.
Three young men from Lincoln high school round out the cast. Tom Swanson, Brian Welter and Patrick Perry will be juniors this fall, but all three have developed a long list of credits in LCT productions. Perry's mournful song "Momma Look Sharp," about the young men who die in war, is performed with the nuances of a seasoned veteran.
"1776" will wrap up the 32nd successful season of LCT. This year's president, Teri Fink, has been involved with LCT from its beginnings in 1972. She notes how LCT and its children's theater have sparked the interest and talents of many young performers in central Illinois. LCT alum Terry Kenny was one the founders of the Steppenwolf Theatre Company in Chicago, which has served as the launching pad for such stars as Gary Sinese, John Malkovich and, lately, Lincoln's own Jennifer Sydney.
Jean Gossett, this year's vice-president of LCT, points out that the "high quality and family-oriented" productions of LCT have been a great outlet for the fine arts in a town the size of Lincoln.
The stars of tomorrow are starring in "1776" today.
"1776" will run through Saturday, Aug. 9. Call the box office for tickets at 735-2614.
[John Welter]