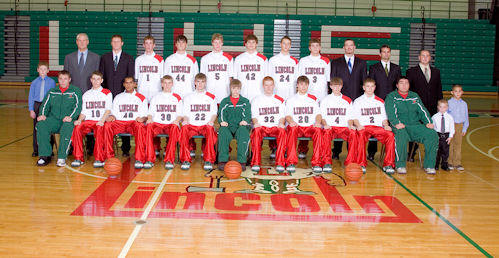 Congratulations to the Lincoln Railers. Although they suffered a disappointing loss last night, they head into the state tournament with a 26-4 regular-season record.
The tournament starts for the Railers on Tuesday. Go, Railers!
Front row (L to R): Ty Unger, student assistant; Jordan Gesner; Will Fisher; Brandon Miller; Cameron Turner; Will Conrady, student assistant; Alex Anderson; Wes Neece; Jordan Nelson; Austin Kirby; Josh Jordan, student assistant; Tyler Shaner, ballboy; and Will Ewald, ballboy.
Back row (L to R): Bryson Kirby, ballboy; coach Neil Alexander; coach Gregg Alexander; Louie Schonauer; Brant Coyne; Ben Brackney; Kyle Young; Kyle Frick; Nathaniel Smith; coach Josh McClallan; coach Eric Ewald, and coach Jared Shaner.
Picture from Lincoln Community High School