IEPA to host household hazardous waste cleanup in Lincoln

Send a link to a friend
[SEPT. 11, 2003] SPRINGFIELD -- Homeowners will have a special opportunity to safely dispose of household hazardous wastes. A collection has been set for Saturday, Oct. 4, from 8 a.m. to 3 p.m. at the Logan County Fairgrounds, 1408 Short 11th St. in Lincoln, according to state Sen. Larry Bomke, R-Springfield. The Illinois Environmental Protection Agency is co-hosting the collection day with Logan County LEPC and Logan County Health Department.
Bomke urges area residents to take advantage of this valuable program and clean out their homes of any hazardous materials.
"Common household items such as paints, pesticides and chemical cleaners tend to collect in our garages and sheds over the years," said Bomke. "These items can be dangerous if they are not stored and disposed of properly. I urge homeowners to check the expiration dates and drop off any of these materials that may have become hazardous or that they simply won't be using in the next year."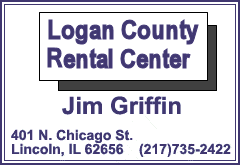 Items accepted include oil-based paints, household batteries, paint thinners, used motor oil, herbicides, drain cleaners, insecticides, lawn chemicals, pesticides, solvents, old gasoline, antifreeze, pool chemicals, hobby chemicals, cleaning products, aerosol paints and pesticides, mercury, and fluorescent lamp bulbs.
[to top of second column in this article]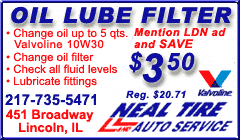 Latex paint, agricultural wastes, propane tanks, business and commercial sector wastes, smoke detectors, explosives, farm machinery oil, fireworks, fire extinguishers, lead acid batteries, institutional wastes, and medical wastes will not be accepted.
According to the IEPA, more than 268,419 households have participated in 304 events, collecting more than 54,736 55-gallon drums of toxic material since 1989.
For more information, visit www.epa.state.il.us/land/hazardous-waste/
household-haz-waste/index.html.
[News release from Sen. Larry Bomke]