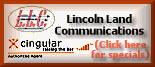 ---
---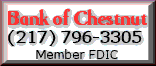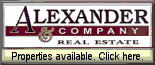 Church Directory
---
---

---
---
---
---
Contact us
---
LDN is best viewed with
IE 6 or Firefox 1.x.

---
LDN awards
Local:
Dec. 16, 2001
Local Emergency Planning Committee
Jan. 25, 2001
Logan County Healthy Communities Partnership
State:
Oct. 1, 2001
Illinois Public Health Association
posted daily OVER THE NOON HOUR (CsT)

Lincoln/Logan County Chamber of Commerce Ambassadors and city of Lincoln officials shout the magic word, "ButterBurgers!" at the Culver's groundbreaking on Tuesday afternoon.
[picture by Jan Youngquist] click on picture for larger image

'Tis the season to be jolly! Share what's on your Christmas list with the readers in the LDN Blog.

LETTERS TO THE EDITOR
Submit letter to editor online
Community
Lincoln Streets Department has begun storm damage pickup.

It's not too late to get a flu shot. Recent flu seasons have begun in February. The Logan County Health Department flu vaccine for this season is still available: $20.


Health & Fitness
The Sports Page


'Compromise' operative word in racetrack negotiation

A record year for tornadoes in 2006

Warm November precedes wintry start to December

Weekly Outlook: USDA reports

Reminder: Stay fit this winter at the Lincoln Park District
Holiday special for college students

Youth wrestling results

Lewis University pre-game notes for Tuesday night Redbird matchup

Sports Network honors Siskowic; Redbirds finish No. 8