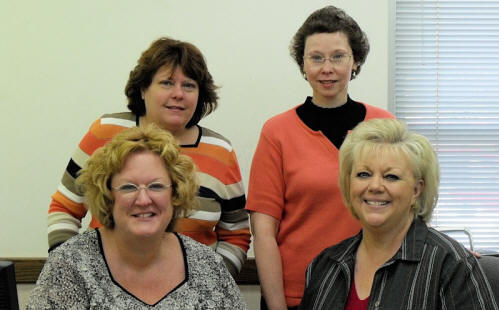 The ladies who keep the wheels at City Hall turning. Front row, left to right: Susan Gehlbach and Doris Anderson. Back, left to right: Denise Martinek and Brenda McCabe.
See story below.
Picture by Nila Smith

CLOSE UP: July 7th
Habitat for Humanity, Logan Lanes, new classes at the Logan County Fair, a 4-generation picture, LCGHS open house and 'Putting On a Play' at the park district all make Close Up
Zooming in on the people, places and things that make this community interesting!
sponsored by CHRIS COYNE, Agent -- State Farm Insurance
| | |
| --- | --- |
| | Abraham Lincoln Bicentennial |

Want to win prizes just for submitting your recipes?
Check out Grab Your Fork for details
Sponsored by

And, don't forget this great coupon for IGA: