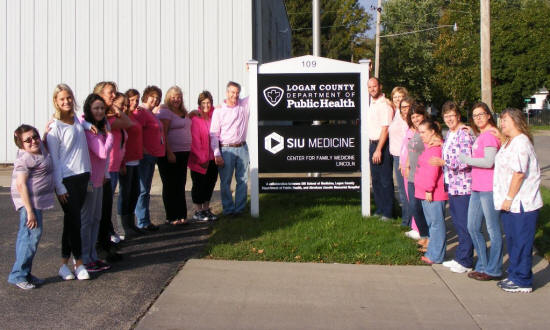 Today's "Show us your pink" photo features staff from the Logan County Department of Public Health. The group is standing together forming a chain with hands reaching out to touch neighbors to symbolize that no person has to be alone as he or she battles cancer. The LCDPH along with their new wellness partner SIU Medicine is there for anyone who needs guidance, and support.
Photo by Roy Logan (Click on photo for larger version)
Show us YOUR pink! Email photos to ads@lincolndailynews.com
| | | | | |
| --- | --- | --- | --- | --- |
| | | | | |

Members of the Lincoln Youth Football sixth, seventh, and eighth-graders practiced on Thursday evening for a special game coming up on Sunday. On that day, the two oldest age-bracket teams will travel to Indianapolis, where they will play at the Lucas Oil Dome immediately following the Colts game.
Photo by Lisa Ramnlow (Click on photo for larger version)