Today's "Show us your pink" photo features the owners and staff of Holland, Barry, & Bennett Funeral Home. The Bennetts know all too well how difficult breast cancer can be for the patient as well as family. And they also know first hand that what a jubilant feeling it is when a loved one is told she or he is cancer free. While Christopher and Lesleigh both have had relatives with the disease, they especially celebrate Christopher's mother who is a 20-plus year survivor! The staff at Holland, Barry & Bennett are proud to stand in support of all those who have or have had breast cancer and their families.
Photo by Karen Hargis (Click on photo for larger version)
Show us YOUR pink!

Email photos to ads@lincolndailynews.com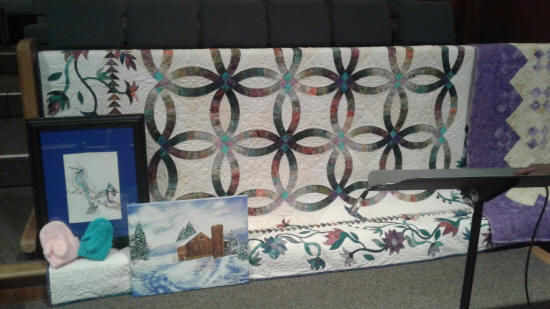 Assuming that you are not one of the early birds who completed their Christmas shopping in mid-July, may we suggest that you pull out your Christmas list, and prepare to designate Saturday, October 28 as "Shopping With a Purpose Day." You may choose to do some serious ~ one of a kind ~ shopping at the Harvest of Talents for World Hunger. The day-long event features all types of gift ideas from holiday to birthday to anniversaries. And don't forget the food! Start the day with breakfast and stay for lunch, then join in the excitement of the live auction starting at 2 p.m. The Harvest of Talents is held at the Lincoln Christian Church at the corner of North McLean and Pekin Streets. Doors open at 7 a.m.
Photos by Patricia Snyder (Click on photo for larger version)