| | |
| --- | --- |
| Advanced EyeCare | Edward Jones Investments |
| Family Chiropractic | Attorney Ted Mills |
Advanced Eyecare, Edward Jones Investments, Family Chiropractic, and attorney Ted Mills are the four pink shirt pictures for today. This group represents several factions of the service industry; they serve the community and take care of the people of the community through their specific areas of expertise.

They share a common goal with the Relay for Life of Logan County - to take care of the people here at home. Also, they share a common concern that various cancers that afflict so many in our community be eradicated. Breast cancer is one of those cancers that shows up too often. The goal of all of those wearing pink is that someday there will be no need for pink shirts or ribbons. In the meantime, the folks at these four businesses want you to know that they support you and your loved ones, and celebrate the survivors every day.
Photos by Karen Hargis and Roy Logan
See: 2019 Paint the Paper Pink - Pink Shirts for Breast Cancer Support - Album

---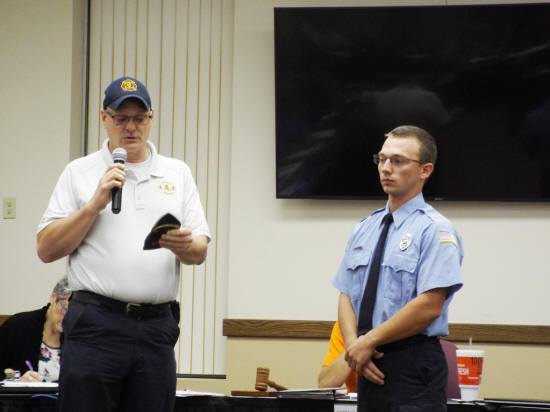 On Monday evening, Lincoln Fire Chief Bob Dunovsky presented firefighter Nick Davis with his official shield for his fireman's hat. Davis has been in a probationary position for one year, a standard procedure in the Lincoln department. Davis will replace his orange badge of the last year with his new official firefighter badge. Chief Dunovsky said he had been an outstanding member of the department and he is proud to present Davis with his official badge.
Photo by Nila Smith