| | |
| --- | --- |
| Audibel | Bard Optical |
| Farmers Bank, Mount Pulaski | Holland, Barry, Bennett Funeral Home |
| J.M. Abbott & Associates | Lincoln Animal Hospital |
| Neal Tire | Senior Issues Task Force |
| Sorrento's Pizzeria | Xamis Ford Lincoln |
We kick off the last week of our Paint the Paper Pink project with ten photos from local businesses and organizations. In these photos, there is a mix of male and female, and younger versus older adults. The focus today is on the younger ladies in the groups and the younger ladies in our community. Each year, nearly 13,000 women under the age of 40 are diagnosed with breast cancer. They make up seven percent of all breast cancer diagnoses. At the same time, most insurance coverage for mammograms starts at age 40. This is why self-examination is so necessary. Early diagnosis is often the key to survival, and waiting until you are 'old enough' to worry about breast cancer may be a dangerous misconception on the part of many women.

Thank you to the fine folks at Audibel, Bard Optical, Farmers Bank in Mount Pulaski, Holland Barry Bennett Funeral Home, J.M. Abbott & Associates, Lincoln Animal Hospital, Neal Tire, Senior Issues Task Force, Sorrento's Pizzeria, and Xamis Ford Lincoln for helping us spread the word for breast cancer awareness.
Photo by Karen Hargis, Roy Logan, Lesleigh Bennett, Tim Bacus, Janell Woolard and Matt Xamis
See: 2019 Paint the Paper Pink - Pink Shirts for Breast Cancer Support - Album
---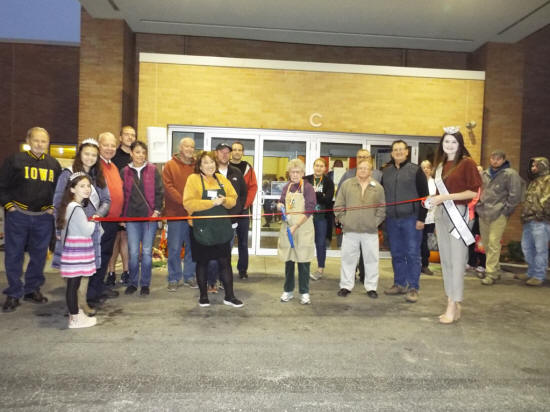 On Saturday, the Lincoln Christian Church in Lincoln hosted its 36th Annual Harvest of Talents for World Hunger. In the wee hours of the morning, a long line formed awaiting the 7 a.m. opening. This year, the Harvest held a ribbon-cutting ceremony to kick off the day. While none of the crowd was willing to give up their place in line for the cut, several others were on hand including several members of the city of Lincoln government, the Logan County Fair royalty and others. Carolyn Neal spoke just before the cut, and then Pat Snyder, who founded the Harvest 36 years ago, snipped the ribbon while calling out the official opening of the day.
LDN will have additional coverage from the Harvest of Talents in a future edition.
Photo by Nila Smith (Click on image to enlarge)