Animal lovers go
to the fair too!

Send a link to a friend
[AUG. 2, 2003] Everyone seems to have a favorite reason for going to the fair. Maybe it's the food, maybe it's the rides. Could be the queen pageant or the demo derby. There are lots of great reasons to go to the fair. But if you're a farmer at heart or an animal lover, it has to be the animals.
This year's Logan County Fair offers a wide variety of animal events. There are competitions for cats, rabbits, poultry, goats, sheep, swine, beef cattle, dairy cattle and horses. Harness racing has been a popular event at the Logan County Fair for many years. In addition, the horse show this year included several entertaining events. One of its highlights was the youth barrel racing, which showed off the talents of some local young people and their horses as they raced to see who would have the fastest time through the barrel course.
Unlike some of the events for horses, most of the rest of the livestock judging at the fair is based on the "correctness" of the animal itself rather than its skill. Fair judge Tammy Miller spent many hours this week looking for the most correct hog in each of the swine classes she judged. Each animal is compared to the standard set for its particular breed, and the animals in the class that best represent the breed standard will receive the highest placements.
To someone who can't tell a barrow from a gilt (ask a hog farmer), swine judging can appear confusing and somewhat chaotic. Miller, who has been judging hogs for more than 10 years, seemed to be calm and in control. After assessing each class and making her decision, she took a moment to explain what qualities she saw in each animal.
Miller, who is from the Dwight area, grew up on a farm, was in 4-H, and her family continues to show and sell hogs. It was at least partly her dad's encouragement that motivated her to start showing hogs when she was younger. When asked if she judged any other types of livestock, she replied that swine is her specialty. Miller said her favorite part about judging is working with the young 4-H exhibitors.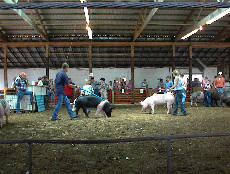 She especially appreciated how polite the kids were this week. Miller commented that the exhibitors and their families really care about the animals and have a good work ethic. She said these types of events can give the young competitors a sense of accomplishment and are important because agriculture is one of Illinois' top industries. This year was the first time Miller had been asked to judge at the Logan County Fair.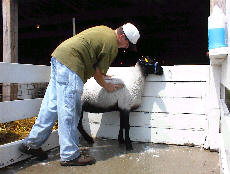 Watching the judging is certainly not the only way to take in the sights, sounds and smells of a farm. A stroll around the livestock area at the fair could yield scenes such as a sheep being showered in preparation for a show, a Brown Swiss cow apparently looking for a snack in a dumpster, and last year's calf scramble calves all grown up and ready for their own class this year. If you haven't yet spent any time with the livestock and their exhibitors at the Logan County Fair, maybe this is the time to see what you've been missing. One last tip from a seasoned barn-walker: Watch where you step.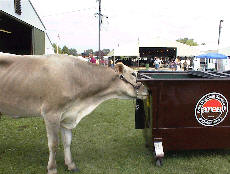 [Article and pictures by Carrie Schleich]