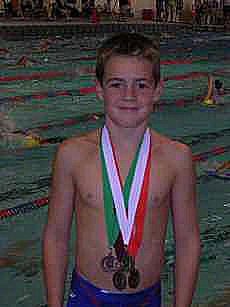 [Note - click on picture for larger image]
Elsas' best performance was a third-place finish in the 100-meter fly with a team record time of 1:24.93. He earned a fifth-place medal in the 50-meter fly with a time of 37.34. In the 200 free he placed seventh and in the 50-meter free he placed eighth to earn medals in both of those events. In the 200-meter IM he placed ninth with a team record time of 3:03.23. He placed 10th in the 100-meter free with a team record of 1:13.91.
Elsas will be leaving for Indianapolis this week to compete in the Central Zone meet. He will be a part of an Illinois team competing against 15 other states. The regional team is a newer program that takes the best of the best swimmers from local clubs. Coach Heidi Heidbreder is proud that Elsas has been asked to join it.
Elsas will be representing the state in the 50-meter free, 50-meter fly and the 100-meter fly. He could also swim in some relays for the team.
[News release]